Here's looking at 10 of his most action-packed Akshay Kumar moments on screen.
Ever since Akshay Kumar made his presence felt in the film industry in the early 1990s, he has been the ultimate action man.
Amongst the top five superstars who have been active for more than a couple of decades, Akshay has worked across genres. Still, when it comes to sheer action and dare devil stunts, he is the go-to actor.
We look at some of his best and coolest action sequences over the years.


Rowdy Rathore - The interval sequence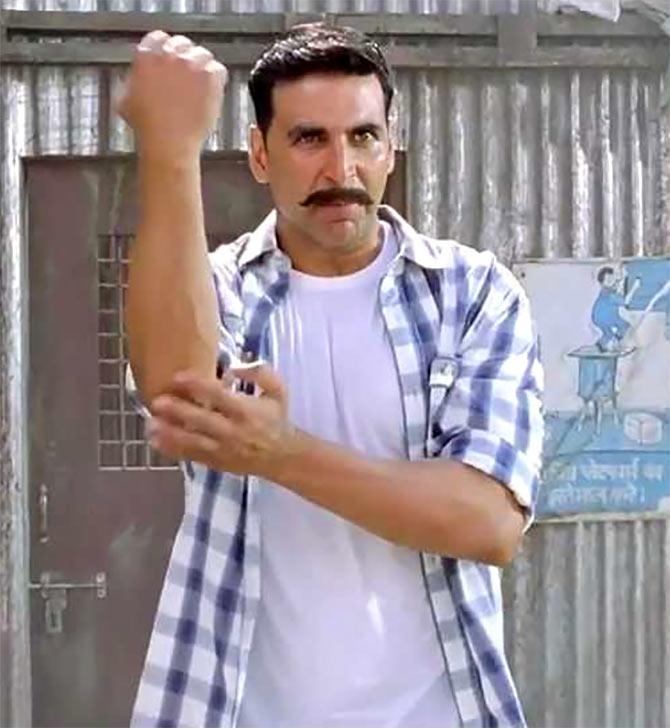 Image: Akshay Kumar in Rowdy Rathore
Akshay played the double role of conman and cop in this action drama.
The former dominated for the first hour, and audiences waited with bated breath to see his other avatar.
This happened in style once the flashback sequence emerged. The graphic action that played on screen brought the Rowdy out of Rathore.
Holiday: A Soldier Is Never Off Duty - The climax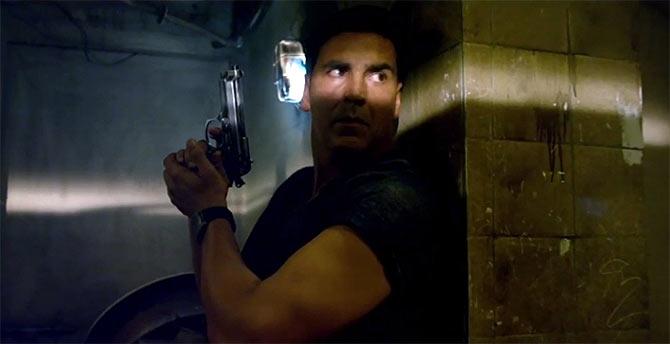 Image: Akshay Kumar in Holiday A Soldier Is Never Off Duty
Throughout the film, Akshay Kumar indulged in mind games complemented by a few kicks and punches.
The enthralling sequence where Akshay and his team take down a dozen odd terrorists was a high point of the narrative.
However, what took the cake was the climax sequence where Akshay and the chief baddie, Freddy Daruwala, got into a one-on-one fight atop a boat.
Baby - The desert sequence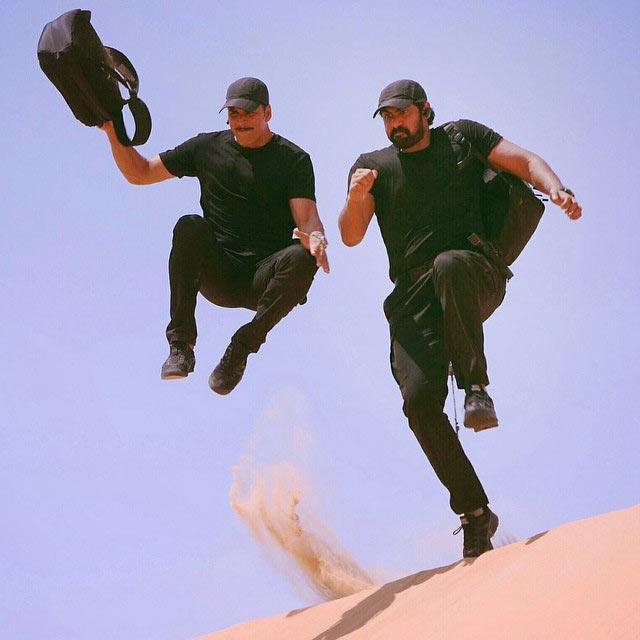 Image: Akshay Kumar and Rana Daggubati in Baby
When Anupam Kher tells Akshay Kumar that he has just a few minutes to apprehend the mastermind of a terror attack, audiences too felt this was an impossible mission.
However, the clinical precision with which Akshay and his partner Rana Daggubati went about their hunt in the dead of night in the desert was in the heart-in-your-mouth category.
Khiladiyon Ka Khiladi - The famous Undertaker fight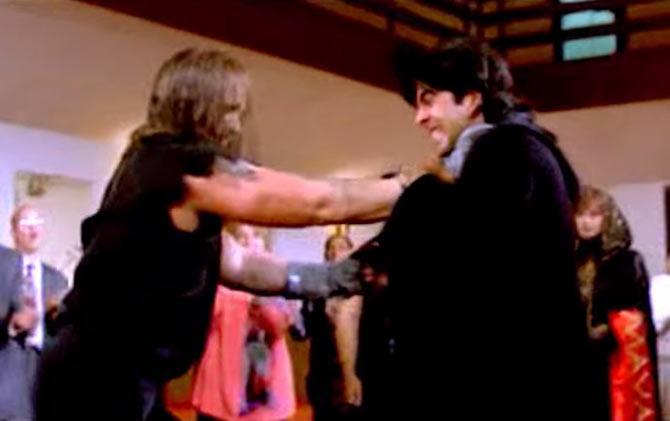 Image: Akshay Kumar and Undertaker in Khiladiyon Ka Khiladi

This was the sequence responsible for the huge opening that the film got.
Though there were many thrilling action scenes in Khiladiyon Ka Khiladi, the most memorable was the one in which Akshay took on WWE wrestler Undertaker.
Not only did Akshay fight with the wrestler, he lifted him with his bare hands.
That it gave the actor severe back problems later is another matter.
Sabse Bada Khiladi - The climax sequence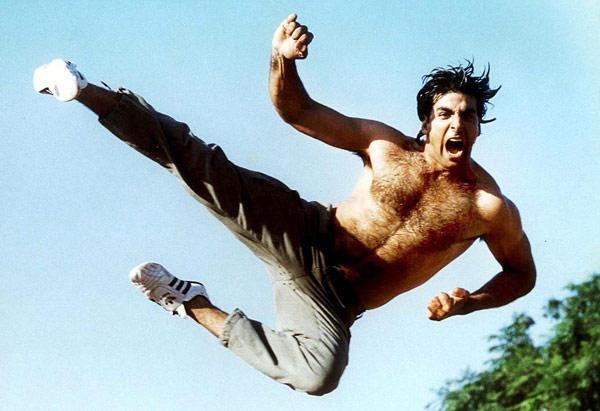 Image: Akshay Kumar in Sabse Bada Khiladi
Though Akshay has performed dare devil stunts in at least 70 of his 100-odd films over the years, there is something about the Khiladi series that gets the best out of him.
In the famous climax sequence in this film, Akshay does everything to stop baddie Mohnish Bahl from escaping.
That includes lying on the bonnet of a fast moving car and hanging from a chopper.
Khiladi 420 - Standing atop a mini-plane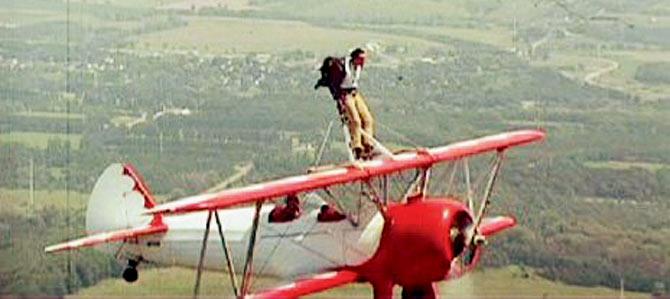 Image: Akshay Kumar in Khiladi 420
How did he do it?
Even though a decade and a half has passed since the release of the film, one still wonders what prompted Akshay Kumar to get into a stunt as dangerous as this.
Of the many fight sequences that the film boasted, the most mindboggling was the one where he boarded a plane - not by sitting inside it, but standing on top of it!
Aflatoon - Run through crashing cars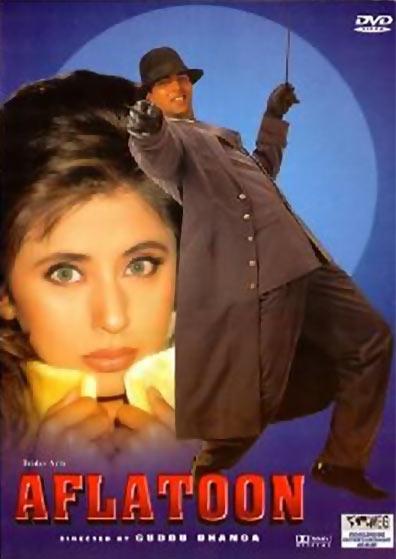 Image: Movie poster of Aflatoon
This was an era when special effects were in their infancy and safety precautions were minimal.
Akshay Kumar didn't hesitate when Guddu Dhanoa and Rohit Shetty decided to blow up more than a couple of dozen cars all around him in the action suspense drama Aflatoon.
There was fire all around him as he battled for his life and still took on the baddies. Superb!
Mohra - One-on-one between Akshay Kumar and Suniel Shetty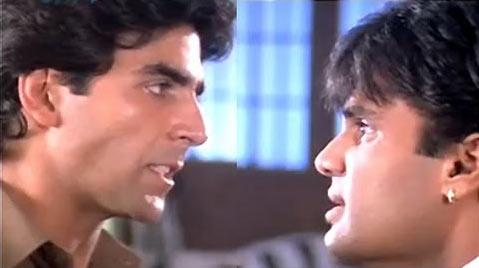 Image: Akshay Kumar and Suniel Shetty in Mohra
When director Rajiv Rai decided to make an action film with two relatively new actors named Akshay Kumar and Suniel Shetty, many wondered if it was the right move from the maker of Tridev and Vishwatma.
The two heroes went all the way to make sure that audiences got their money's worth.
Though both were after their common nemesis played by Naseeruddin Shah, there was a memorable fight between them too.
Khakee - Face-off between Akshay Kumar and Ajay Devgn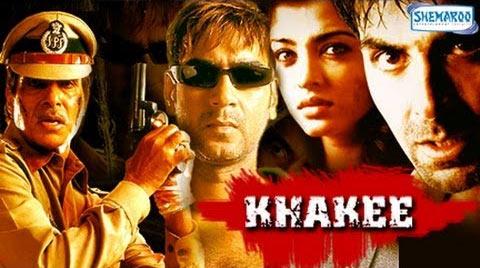 Image: Movie poster of Khakee
One of the best films ever from Rajkumar Santoshi, Khakee has several memorable moments and one of the best performances ever from Akshay Kumar.
With Ajay Devgn playing a baddie in the film, it was inevitable that the two senior most action heroes should battle it out.
Audiences were not disappointed; both actors gave it their best shot.
International Khiladi - Fight with three female wrestlers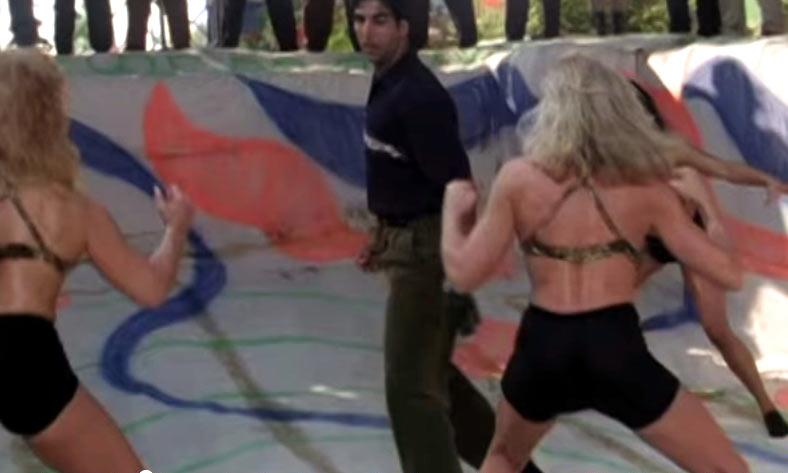 Image: Akshay Kumar in International Khiladi
The action sequences of the Khiladi films are their USP. To provide something new, Akshay was required to take on as many as three women in the ring.
Each of the three women was a bulky international wrestler who was ready for the kill so it was no picnic for the tough action man.