What a life he led!
Roger Moore, who memorably played James Bond, lost a short battle to cancer and passed away on Tuesday, May 23, at his home in Switzerland.
Looking back at a glorious life: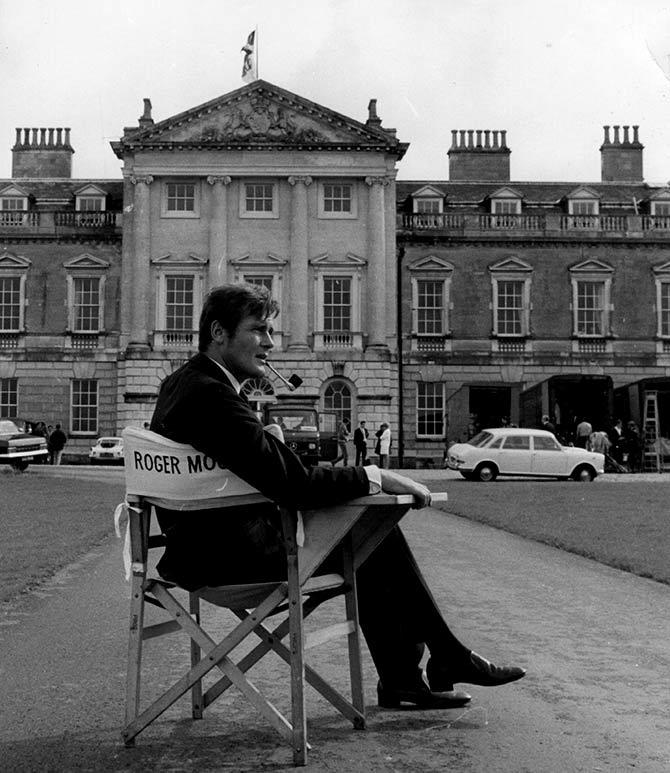 Photograph: Keystone Features/Getty Images
Roger Moore rests at Woburn Abbey where he was shooting for Crossplot.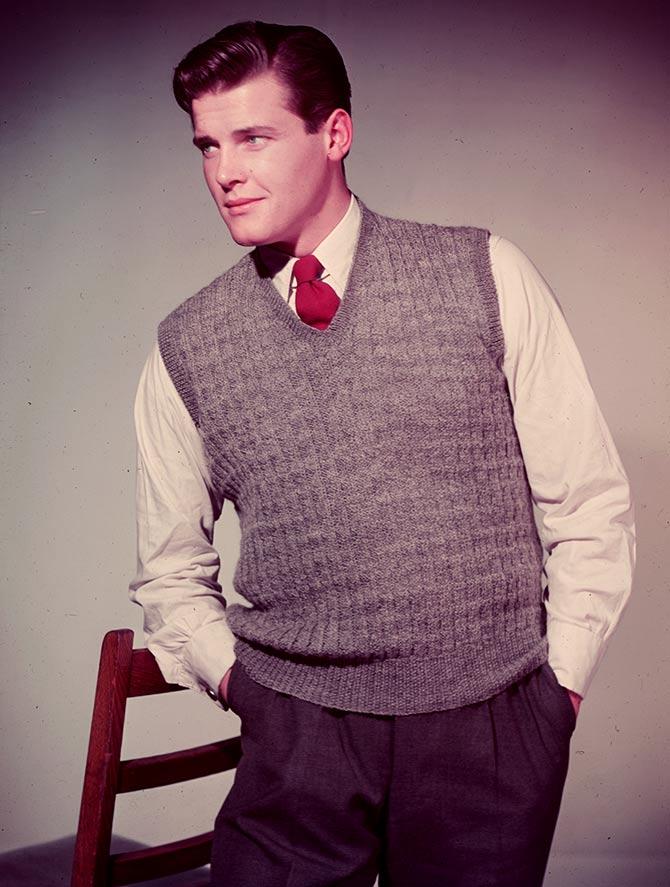 Photograph: Chaloner Woods/Getty Images
That's Roger in his modelling days, before he found fame as The Saint later as James Bond.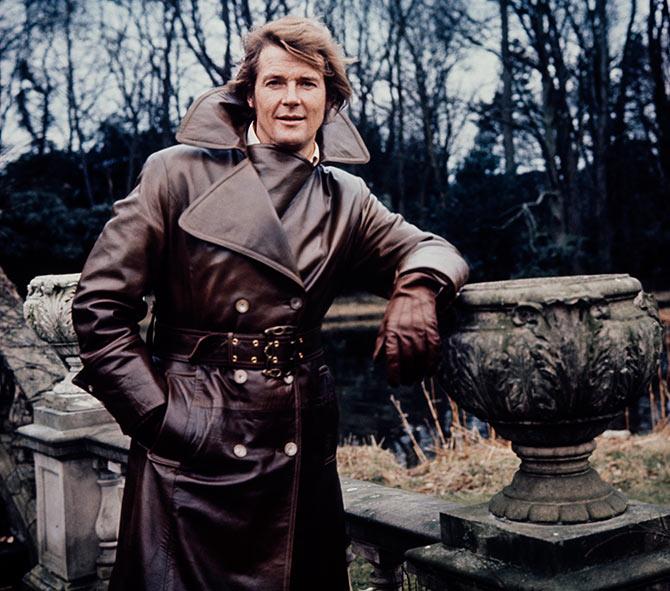 Photograph: Keystone/Hulton Archive/Getty Images
Roger strikes a pose in a trench coat on the sets of the television series The Persuaders.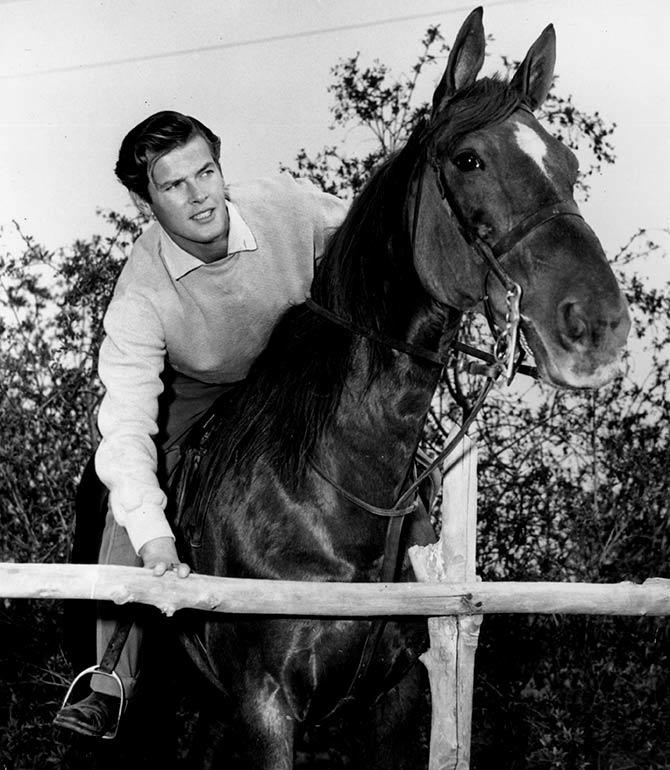 Photograph: Keystone/Getty Images
Roger heads off on a morning ride in Hollywood.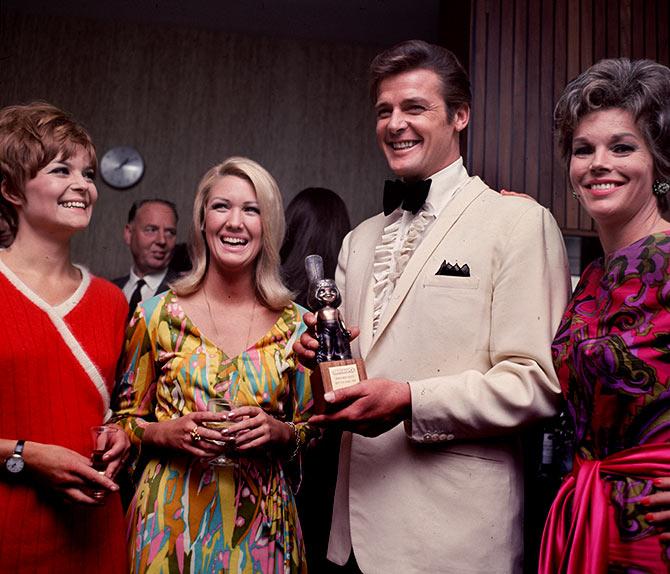 Photograph: Peter Ruck/BIPs/Getty Images
That dazzling smile as he receives an award.
Photograph: John Pratt/Keystone Features/Getty Images
Roger plays the piano for his first wife, singer Dorothy Squires.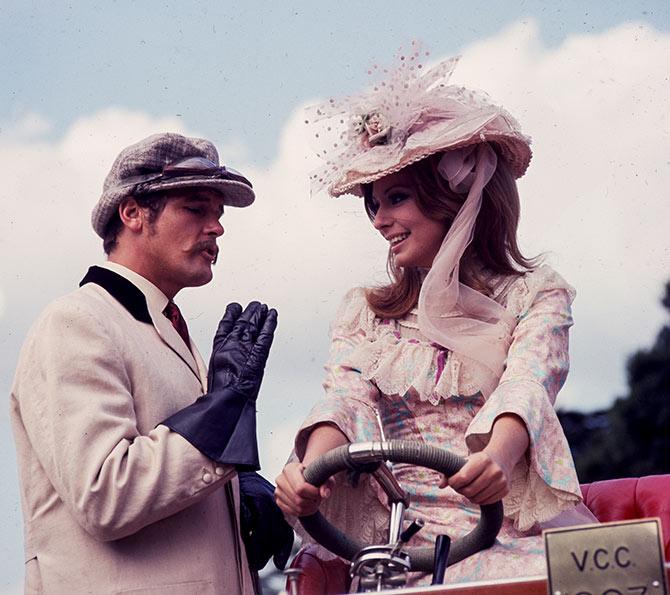 Photograph: Peter Ruck/BIPs/Getty Images
Filming on the grounds of Woburn Abbey with his Italian co-star Claudie Lange for Crossplot.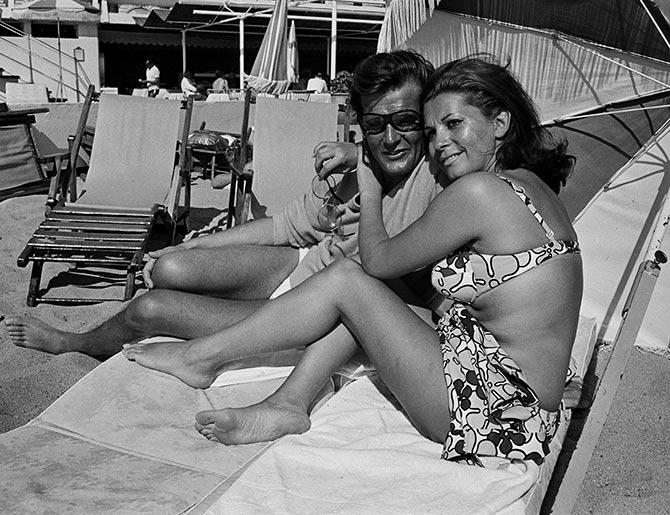 Photograph: Reg Lancaster/Daily Express/Hulton Archive/Getty Images
Roger left Squires, who was 13 years older than him, for Italian actress Luisa Mattioli. They were married in April 1969.
Here they are on their honeymoon in Cannes, April 17, 1969.
Photograph: Dove/Daily Express/Getty Images
They had three children -- daughter Deborah and two sons, Geoffrey and Christian.
Deborah and Geoffrey are actors, Christian a film producer.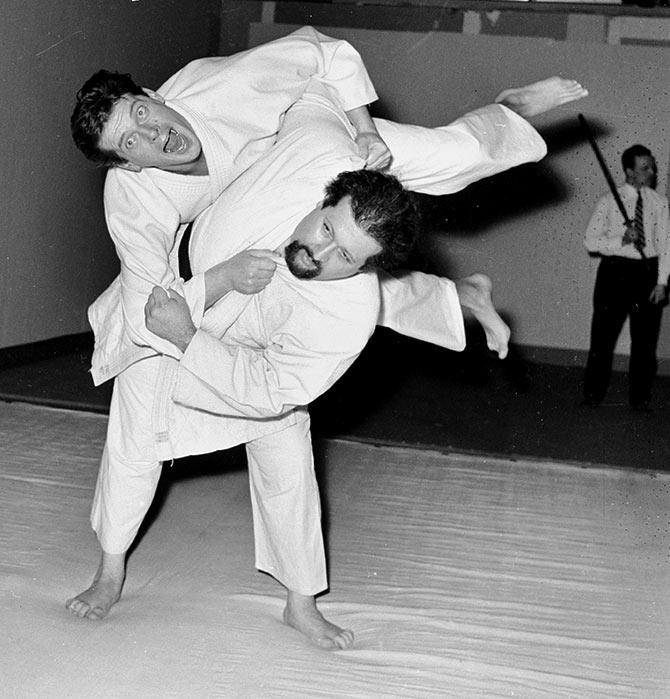 Photograph: Michael Webb/Keystone Features/Getty Images
Roger practices judo at Elstree Studios with his teacher Barrie Shaigum in preparation for his fight scenes in episodes of The Saint, the television series in which he played the title role.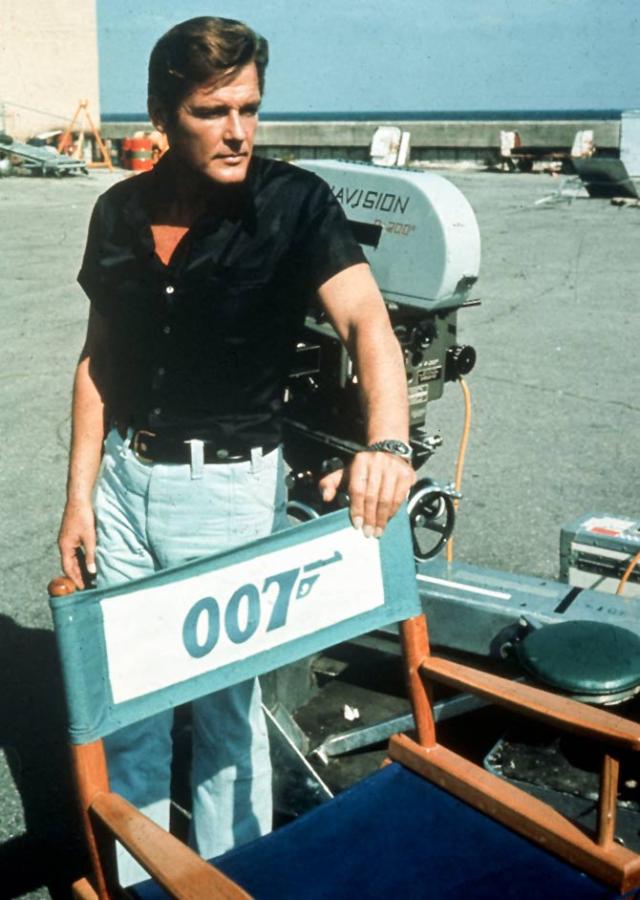 Photograph: Hulton Archive/Getty Images
On location for the filming of the James Bond movie Live and Let Die.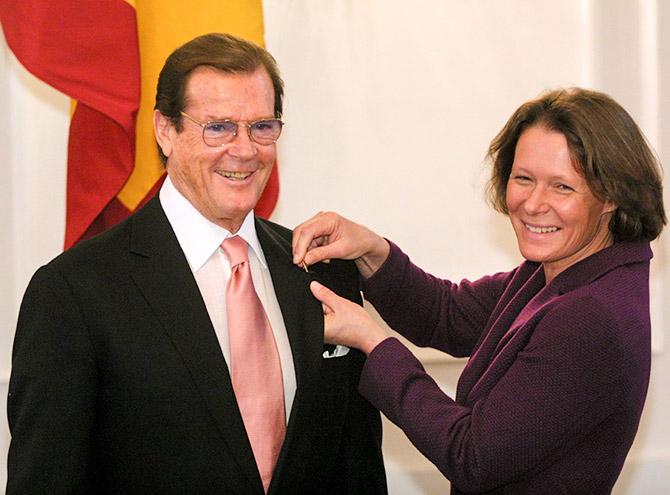 Photograph: Sean Gallup/Getty Images
Christina Rau, then German president Johannes Rau's wife, pins the Federal Service Cross, 1st Class, onto Roger's jacket.
The award was in recognition of his work with the United Nations Children's Fund, UNICEF.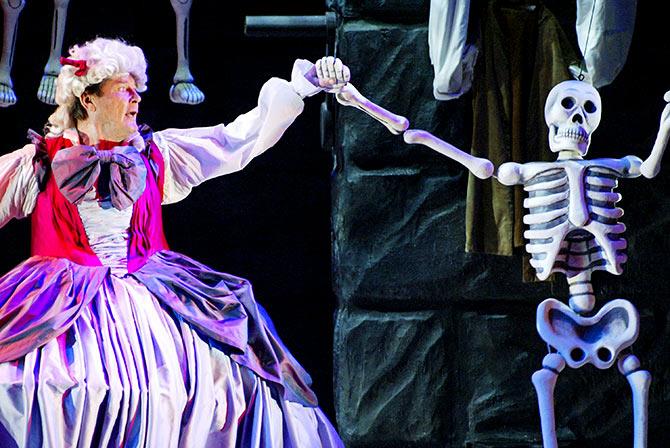 Photograph: Bruce Glikas/Getty Images
Roger performs in drag during the first performance of the comedy The Play What I Wrote at The Lyceum Theatre, New York City, March 7, 2003.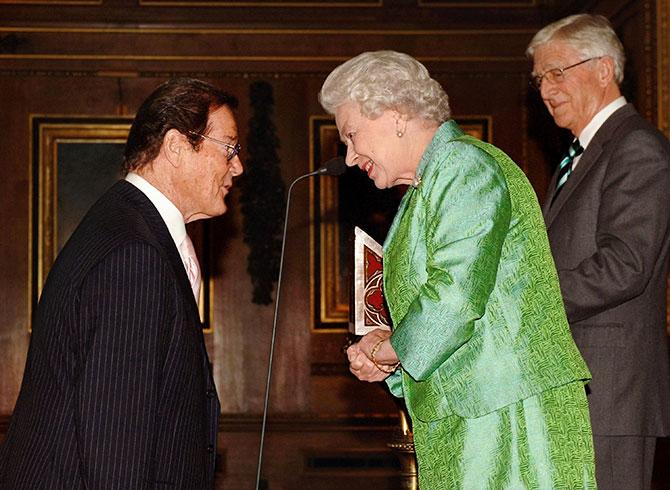 Photograph: Fiona Hanson/Getty Images
Queen Elizabeth II greets Sir Roger Moore, Help The Aged Living Legend award winner, as television presenter Michael Parkinson looks on at a ceremony at Windsor Castle, May 5, 2006.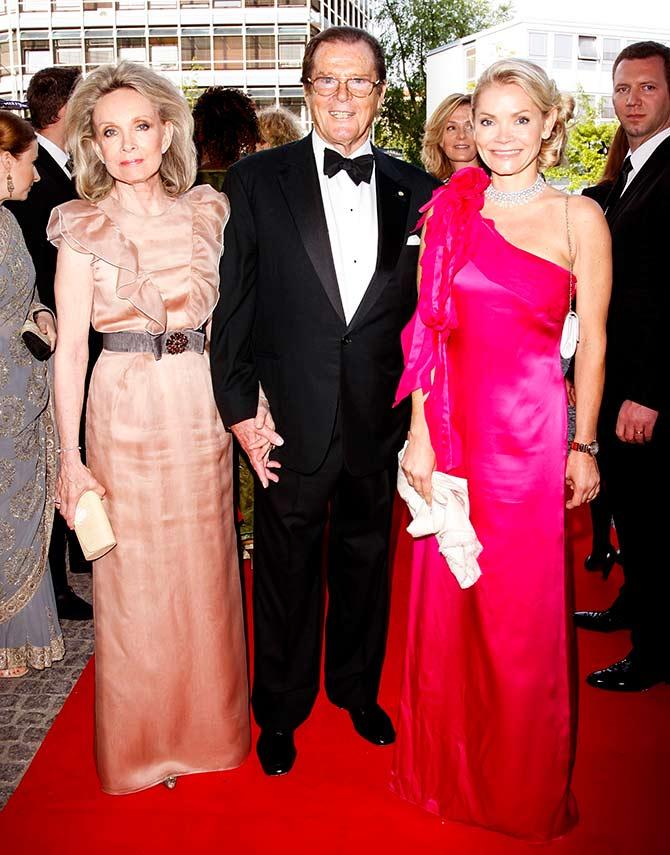 Photograph: Florian Seefried/Getty Images
Roger separated from Luisa Mattioli in 1993 and married Kristina 'Kiki' Tholstrup in 2002.
Here's he's with Kiki and her daughter Christina Knudsen, attending An Evening For Africa at the Burda Medien Park, Offenburg, Germany, June 7, 2010.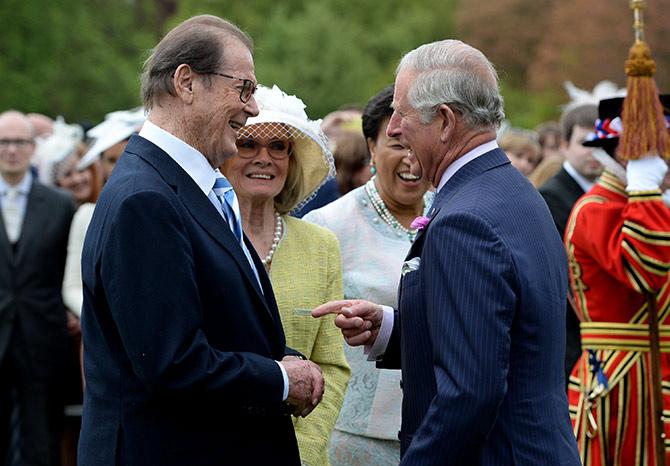 Photograph: Anthony Devlin/WPA Pool/Getty Images
Prince Charles with Roger at Buckingham Palace, May 17, 2016.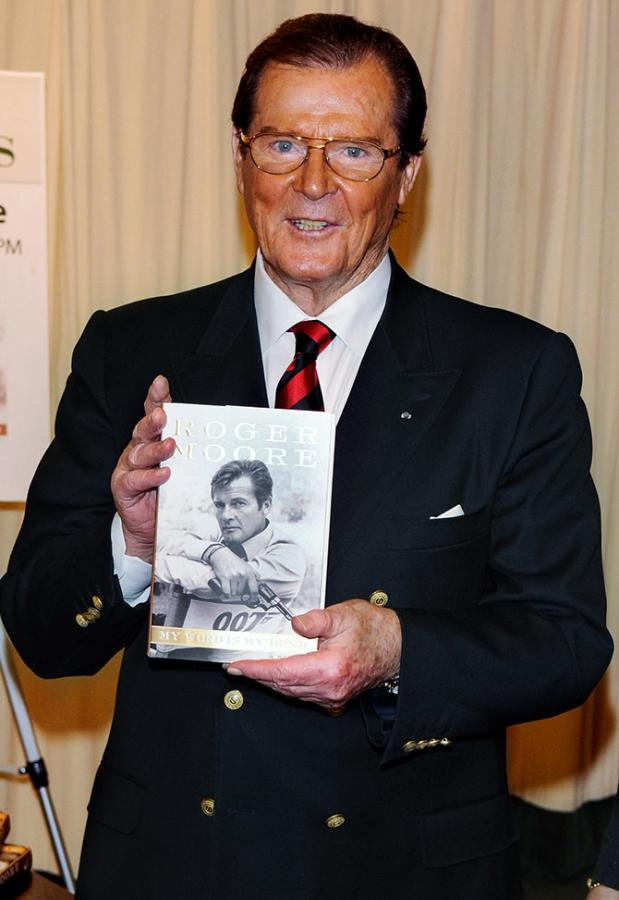 Photograph: Bryan Bedder/Getty Images
Roger with a copy of his memoir My Word is My Bond at a Barnes & Noble store in New York City, November 7, 2008.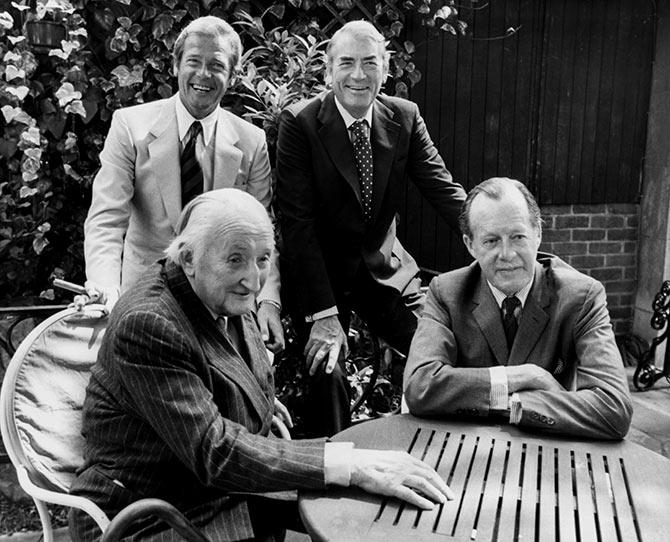 Photograph: Dack/Keystone/Getty Images
Gregory Peck (standing, right) and Roger Moore (standing, left), stars of The Sea Wolves, meet two real life Sea Wolves, Colin McKenzie (left) and Major General Lewis Pugh, London, July 3, 1980.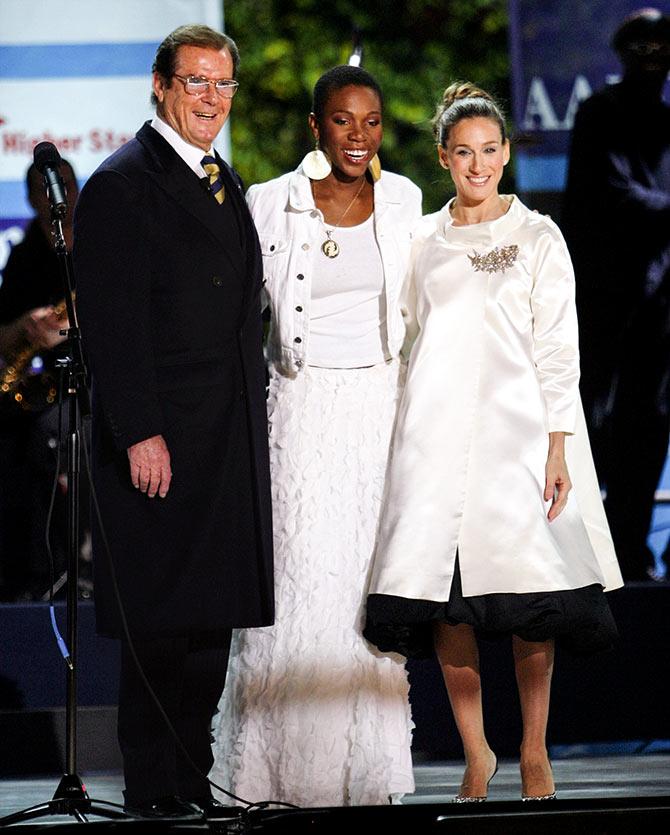 Photograph: Thos Robinson/Getty Images
Sir Roger Moore, singer India Arie, actress Sarah Jessica Parker attend the UNICEF Crystal Snowflake Outdoor Entertainment And Lighting Ceremony in New York City, November 18, 2004.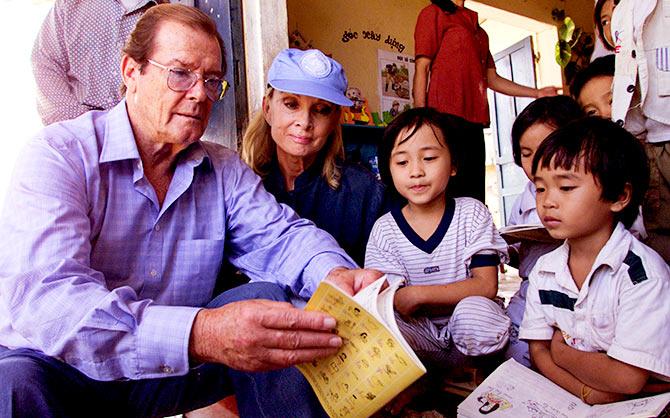 Photograph: Reuters
Roger and Kiki Tholstrup read to children in Vietnam's central province of Quang Tri, October 28, 2003, during a five-day journey to promote education and other UNICEF projects.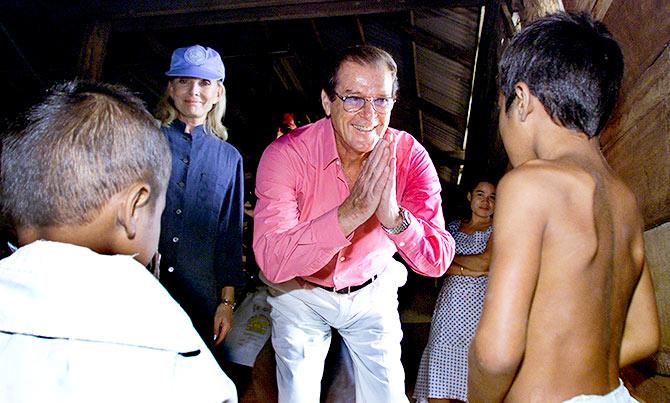 Photograph: Chor Sokunthea/Reuters
Roger greets a Cambodian child at a village in Kampot, October 23, 2003.