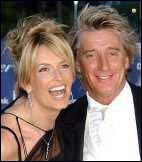 Rock star Rod Stewart's engagement to catwalk beauty Penny Lancaster has reportedly enraged his estranged wife Rachel Hunter, who is expected to demand a large chunk of the singer's 100 million pound fortune after their divorce is finalised.

 

According to The Daily Mail, the New Zealand-born model, who left Stewart after nine years of marriage in 1998, is thought to have signed a pre-nuptial agreement with the rock star.

 

Legal experts say this would limit her to an initial settlement of around 5 million pounds. But, under California law, where both have homes, she is entitled to half his fortune, and therefore, expected to fight for

that.

 

'Rachel is generally not too happy with the way things have gone, and it's possible she could make him pay out millions and millions of pounds,' the report quoted a source as saying.

 

Rachel has also claimed Lancaster wants to marry Stewart for money.

 

'I used to think marriage was so beautiful, but right now, it's just one big ugly contract. It is all about money, what people can get, and it has very little to do with church and vows,' femalefirst.co.uk quoted her as saying.