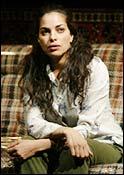 If you are wondering what actress Sarita Choudhury, who worked in movies like Kama Sutra and Mississippi Masala, is up to, you must watch Roar, an often funny and moving play.
Choudhury, who has appeared in tiny parts in over a dozen television shows in the last few years, plays Karema, a Palestinian mother of a rebellious teenager in the off-Broadway play.
You could say the actress, who is about 37, has reinvented her career. Not surprisingly, she is scheduled to play the rebellious Mexican artist Frida Kahlo in an off-Broadway show in the coming months.
Roar, which is one of the better received of the shows in New York in recent weeks, is set in Detroit. It is also a play about sibling rivalry and loss of identity.
Soon after the first Gulf war, spirited singer Hala (Annabella Sciorra), who has been exiled from Kuwait, arrives at her sister Karema's home.
At first, we see her as a role model to Karema's young daughter. But we will also see her as a home-wrecker when she steals her sister's husband Ahmed (Joseph Kamal) and persuades him to return to Jordan.
Annabella Sciorra, known for her work in the television show The Sopranos and Spike Lee's film Jungle Fever, plays the vivacious but unfaithful sister.
The fifth character in the show is Karema's brother-in-law who has passed himself as a Jew and made a name in the music industry. He is not the only one who is pretending.
Karema reluctantly reveals to her daughter that she and her husband own 30 apartments in the city. They pretend to be the caretakers of the buildings because they are afraid people will not rent out apartments from Palestinian Muslims.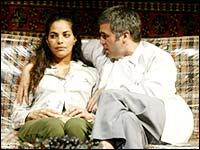 Despite being overshadowed by the gorgeous Sciorra, Choudhury comes up with a strong performance that subtly reveals her inadequacies and insecurities. In the final reckoning, she emerges a stronger character — even when she makes a compromise in befriending her brother-in-law, whom she had been calling names such as 'traitor' not long ago. Now, however, she feels that she has to mend the fences so that her musically inclined daughter benefits.
Betty Shamieh, a Palestinian American, has written the play, which is in a limited run at the Clurman Theatre on New York's Theatre Row till May 18.
It could have been helped by brisker pacing and tighter writing, but Shamieh does succeed in making us look deep into the ravaged souls of men and women who have run away from a war-torn region.
What makes Roar even more appealing is that it could be the story of any immigrant family trying to find its roots in America while still unable to completely abandon ties to the mother country.