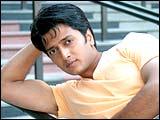 Shaving foam coating his face, Ritesh Deshmukh looks sheepish. "I'm really sorry I have to shave in front of you," he apologises.
That pretty much sums up the son of former Chief Minister of Maharashtra Vilasrao Deshmukh: courteous, down-to-earth.
His debut film, K Vijaya Bhaskar's Tujhe Meri Kasam, was a slow starter. The film picked up and went on to celebrate a silver jubilee. "For an actor like me to have a silver jubilee in his debut film is a big thing," he says.
The film fared well in Bihar, Uttar Pradesh, Maharashtra, Madhya Pradesh, Kolkatta and Orissa. Ritesh admits the film helped his career a great deal: "A lot of people see your work when your film does well. I'm not saying I got to refuse ten films every day. I did not get so many offers in the first place. But yes, I did get offers."
One of them was Out Of Control, produced by Vashu Bhagnani and directed by Apoorva Asrani. The film also stars American actress Brande Rodrick and Hrishitaa Bhatt.
The film revolves around Ritesh's character who goes to New York to earn money. He does numerous shifts, including working in a gas station, driving a cab and selling newspapers. He also has immigration problems.
A friend Sally (Brande) helps him out. But she has a condition: he must marry her. Back home, his father (Amrish Puri) makes him marry a Punjabi girl (Hrishitaa).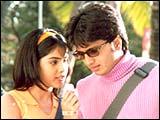 That's when his life goes out of control.
"He's not in love with either of the girls!" Ritesh laughs. "Situations force him to get married. It's not like the regular films where he loves the first wife and is forced to marry the second. Here, he is forced to marry both and loves neither. Eventually, he starts liking both. It's love after marriage."
The film was shot in New York, Switzerland, Los Angeles and Haryana. Ritesh claims that acting with a former Playboy Playmate and Baywatch actress was like acting with any other Indian actress. "Our rapport was fantastic! Brande is very professional, fun and bubbly. I taught her some of the Hindi lyrics and what they meant. By the end of the shoot, she would keep saying, 'Jaldi karo, jaldi karo!' She made everyone laugh with her Hindi."
| | |
| --- | --- |
| | More on Out Of Control! |
| | |
Brande had a lot of questions for Ritesh about Bollywood. He recounts, "She would ask me why people are dancing behind us during the song sequences. Also, if she was to sing to me, she wondered why was I dancing! Or why do we not look at each other when we are talking; why do we have to look at the camera?"
Ritesh is certain the film will click in India, despite a foreign heroine. "I'm not saying Out Of Control is drastically different from other films. There are not many different films being made nowadays. But it depends how you adapt to Indian tastes. When you put an American girl in an Indian film, the equation changes. The stakes change. Even the rural audiences will like the film because it is something new for them. They are seeing a blonde girl talk in Hindi."
A die-hard movie fan ["I watch every film"], Ritesh never expected to become an actor. It happened when he was holidaying with Subhash Ghai in London. "I was never interested in politics. I preferred architecture. I knew I didn't have the face nor talent to be an actor. Actually, [cinematographer] Kabir Lal had seen me on the sets of Yaadein. After a year, he offered me a film. I was shocked because I had never talked to him about films or even said that I wanted to act. But I accepted it. And it worked!"
While father Deshmukh loves Ritesh's films, brothers Amit and Dhiraj are his best critics. "My father never criticises my films. He loves whatever I do. He's very proud of me," Ritesh smiles.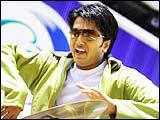 Unlike most actors who retreat to their vans in-between shots, Ritesh prefers chilling out with the rest of the cast and crew. "I always sit on the sets and joke with the director or the spot boys. I use the van only to change," he says.
The actor has also signed on Vashu Bhagnani's Bardaash, directed by E Niwas and starring Bobby Deol. The film sees him in a cameo. Bhagnani's second film Bisaat, directed by Satish Kaushik and co-starring Esha Deol and Zayed Khan, sees him in a full-fledged role.
But his most interesting film seems to be Inder Kumar's Masti starring Ajay Devgan, Vivek Oberoi, Aftab Shivdasani, Lara Dutta, Tara Sharma, Genelia D'Souza and Amrita Rao.
"I play a very frustrated guy in Masti. I am totally dominated by my wife [Genelia D'Souza]. The film is about three friends [Vivek, Aftab and Ritesh] who decide to have extra-marital affairs," Ritesh explains.
The film sees each of the three friends having different looks in the film. Ritesh has a timid look post-marriage, a long spiked-hair look in his bachelor days and a contemporary look when he's flirting. While he wears formal shirts and trousers throughout the film, Vivek dons kurtas and jeans while Aftab wears T-shirts.
Ritesh is not afraid of getting lost in such a big star cast. "I am open to multi-starrers if there is a niche for me to perform. It's like Dil Chahta Hai, where every actor will be noticed."
Click here for More Features