The top posts on social media from your favourite Bollywood celebrities: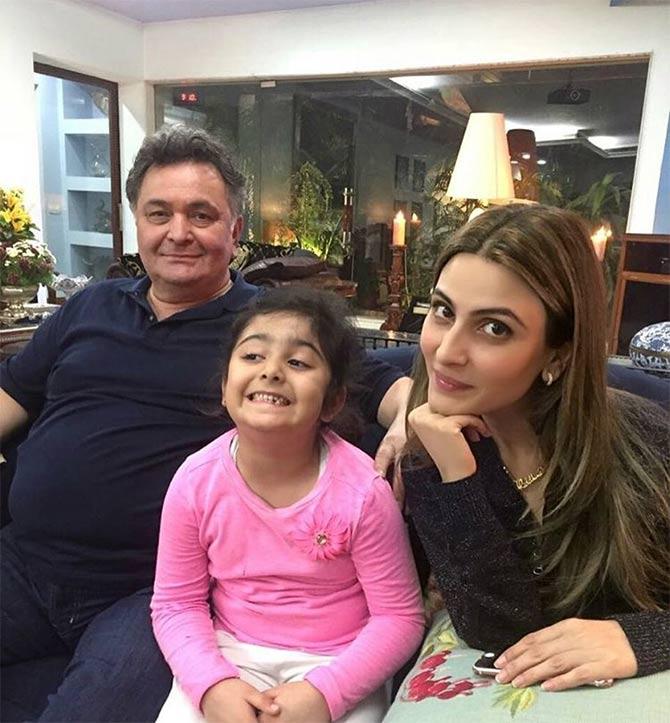 Rishi Kapoor recently spent some quality time with his granddaughter Samara.
His daughter Riddhima Kapoor Sahani shared a cute picture, above, on Instagram and captioned it, 'Some #daddytime #missuma.'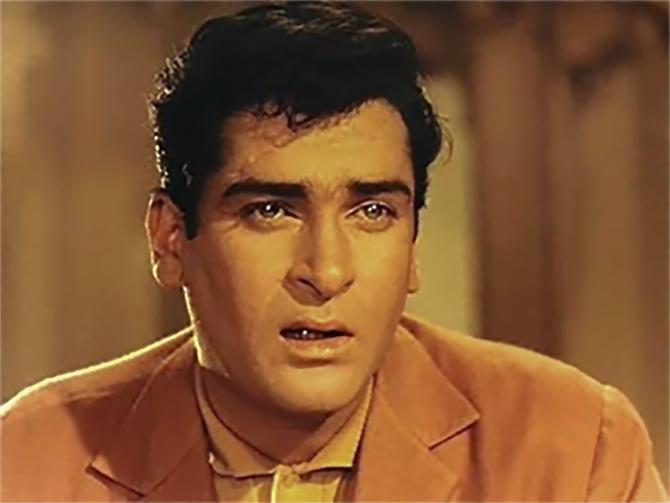 Rishi Kapoor also shared a picture on Twitter remembering his famous uncle Shammi Kapoor on his birth anniversary.
He tweeted, 'Rebel Star Shammi Kapoor would have been 85 today. Happy birthday uncle! We all love you..Yaahhhoooooooo.'
***
Parineeti gears up for Takadum!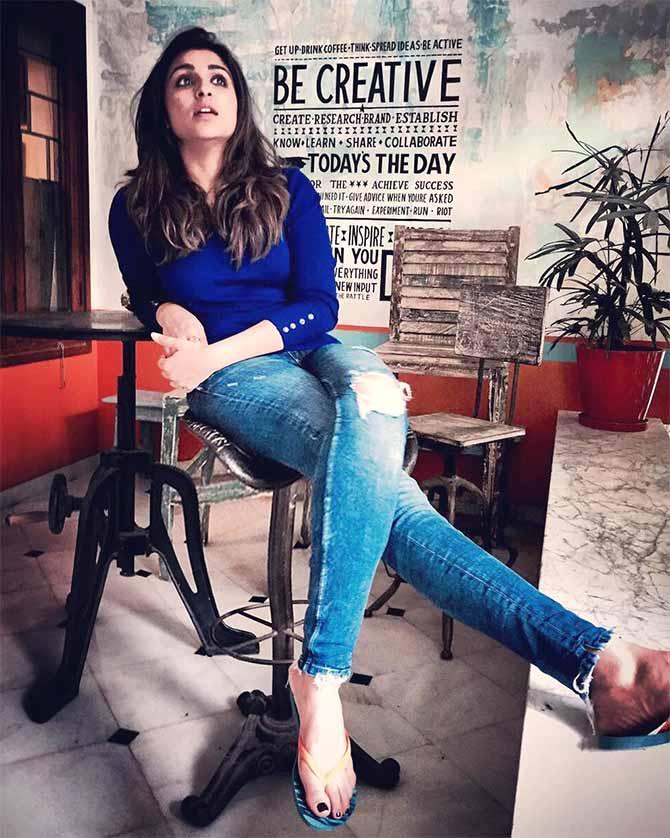 Parineeti Chopra, who has been away from the big screen for a while now, is super busy.
Apart from Meri Pyaari Bindu, she will be seen in Homi Adjania's next Takadum along with Sushant Singh Rajput.
Pari shared a picture, above, on Instagram and wrote, 'Thinking, talking, deciding!! Making a film and creating a character is the most exciting thing in the world!! CliCked by my beautiful director who is going to see a lot of me in the next few months!! Hahaha @homster #Takadum.'
The movie is expected to go on floors by end of this year.
***
Nargis gets a makeover for her birthday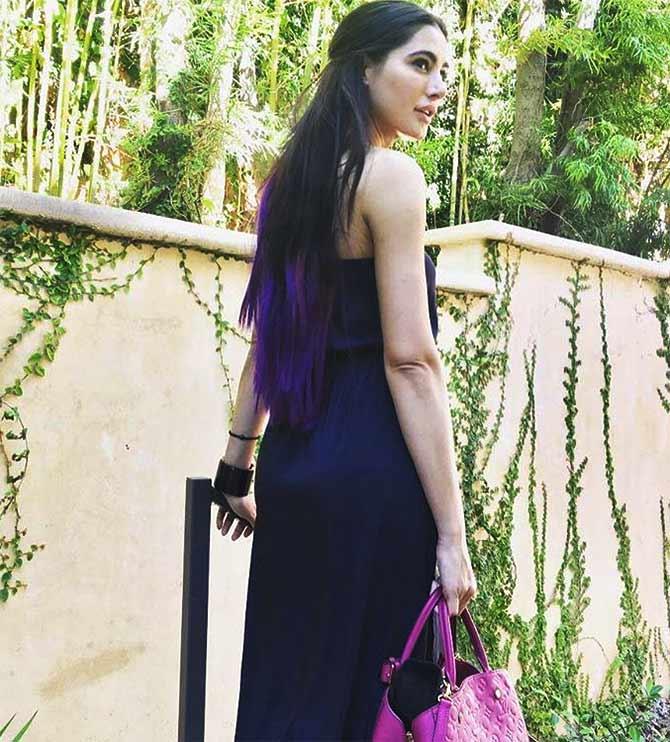 Nargis Fakhri, who turned a year older on October 20, got herself a hair makeover for her special day.
She shared a picture, above, on Instagram and wrote, 'Birthday hair!!! thank you @muxoextended.'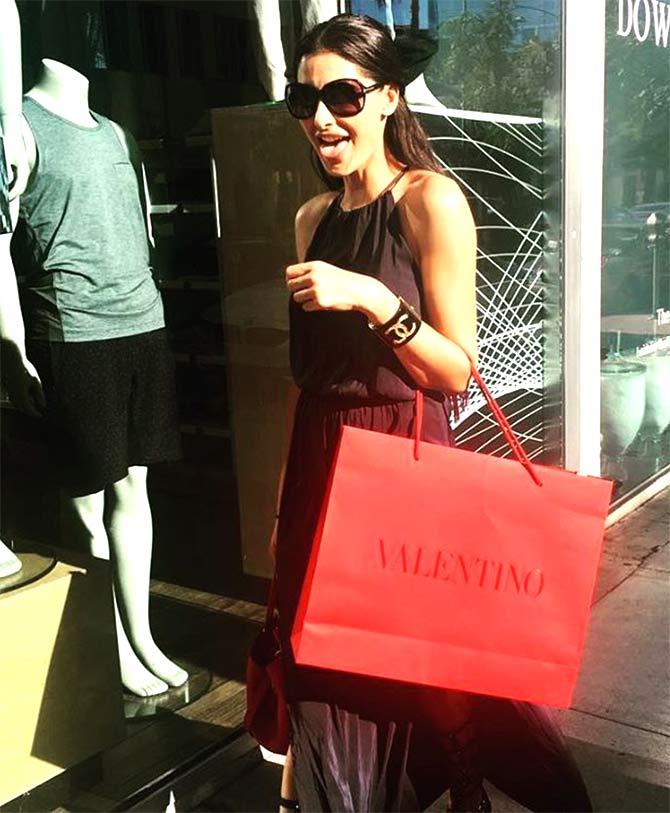 The model-turned-actress also went for shopping.
She share another picture and wrote, 'Haha..birthday shopping.'
***
Anushka's gangster avatar!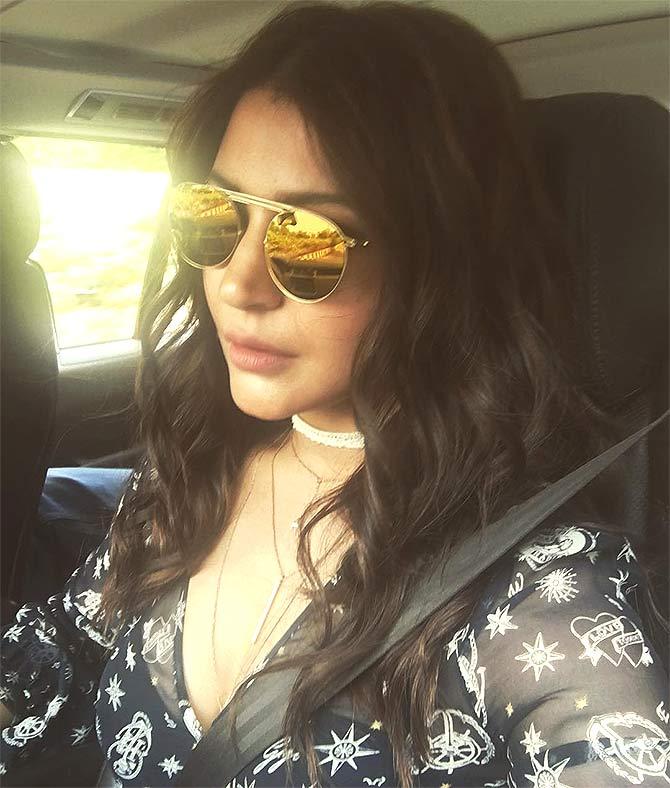 Anushka Sharma, who is back in city, is leaving no stone unturned to promote her upcoming film Ae Dil Hai Mushkil.
The actress shared this picture on Instagram and captioned it, 'Hola! Off I go ... promotions... #aedilhaimushkil #aedilkidiwali sunglasses courtesy mr Kapoor.'
Now that picture sure has SWAG written all over it, no?
Her film, which co-stars Ranbir Kapoor and Aishwarya Rai Bachchan, is slated to hit the theatres on October 28.
***
Hrithik spends time with his sons
Hrithik Roshan, who will next be seen in Kaabil, took some time out to take his kids for a ride.
The actor shared a picture, above, on Instagram and captioned it, 'Smile boys! Eyes on the road, Dad. #schooledbymychildren #cruisingthestreets #convertiblesarecool.'
His Kaabil director Sanjay Gupta has just released a teaser from the film, and we're curious already!
***
KJo pays tribute to Yash Chopra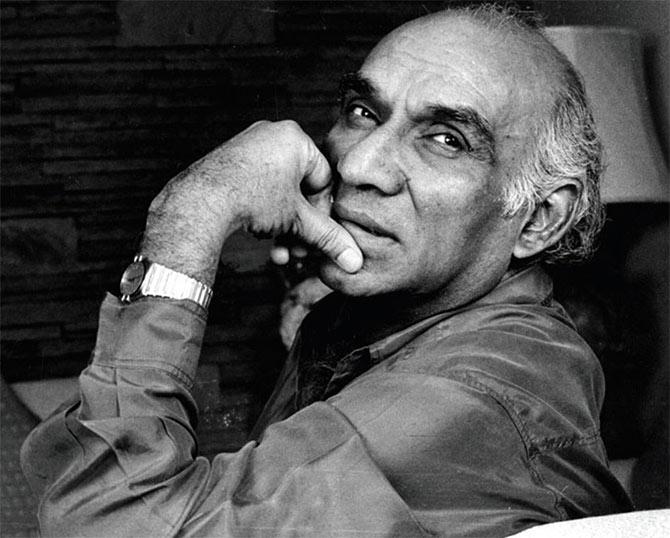 Karan Johar took to Twitter to pay tribute to late filmmaker Yash Chopra on his death anniversary.
He posted this picture and tweeted, 'I miss you Yash uncle...I miss your spirit...your positivity...your sense of community... and your ability to love unconditionally....'
The director is awaiting the release of his controversial film Ae Dil Hai Mushkil, starring Ranbir Kapoor, Anushka Sharma, Aishwarya Rai Bachchan and Fawad Khan. It will release on October 28.
Yash Chopra's wife Pamela reveals more about her famous husband here.