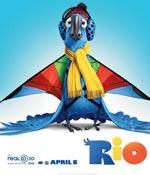 The first big hit of 2011 has arrived.
The 20th Century Fox's 3D animation Rio has grossed about $55 million over the weekend outside of America and Canada, where it opened on Friday. Fox released the movie ahead of its American debut because kids were getting out of school in Europe for a spring break, the studio said.
The movie is expected to do good business through April and early May before some big budget studio films such as The Green Lantern, Rise of the Apes (a Planet of the Apes prequel) and Thor (the first screen appearance by the Marvel superhero) arrive.

Rio, the comedic movie about a domesticated bird named Blu who learns to fend for himself in the wild after he has been separated from his owner, premiered recently in Brazil, the home of its director Carlos Saldanha, who is best known for his work in the Ice Age franchises.
Rio
is the sixth movie from Blue Sky Animation, which is responsible for the
Ice Age
series that have grossed about $1.5 billion worldwide apart from
Robots
and Dr Seuss'
Horton Hears a Who!
While Rio is riding high on success, a little horror film about a haunted house is earning huge money in America because of its almost zero production value as per Hollywood standards.
Insidious, which was made on a shoe-string budget of $1.5 million, was number five in North America over the weekend, grossing $9.7 million. Box office observers believe that it is headed for a $50 million run in North America.
It has received a fair number of reviews too. 'Insidious is the kind of movie you could watch with your eyes closed and still feel engrossed by it,' wrote San Jose Mercury News. 'It's a haunted-house thriller filled with all the usual creaking doors, groaning floors and things that go bump in the night, but it'll also grab you with some disturbing, raspy.'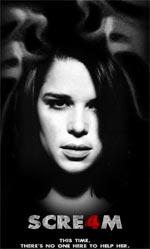 Releasing on April 15, the same day Rio hits thousands of theatres in North America, is Scream 4 which may ignite new interest in the series and give its director Wes Craven, 71, a big hit after the failure of his last film, the serial killer movie My Soul to Take.

Ten years have passed, and Sidney Prescott (Neve Campbell), now the author of a self-help book, returns home to Woodsboro as part of her book tour. There she reconnects with Sheriff Dewey and Gale, who are now married, as well as her cousin Jill and her Aunt Kate. But her visit also brings the return of Ghostface, putting Sidney, Gale, and Dewey, along with Jill, her friends, and the entire community in danger.

Boxoffice Mojo expects the film to open really big, say gross $40 million over the weekend, 'even if 11 years is an awfully long time to wait between sequels and tends to result in lower attendance. The first three movies were consistent draws, though attendance did wane with each entry.

A national bestseller for over two years, the highly sentimental Water for Elephants is now a movie that could prove Robert Pattison has a career outside the Twilight movies. Even though his previous film Remember Me did not fire the box office (it did make a small profit, though), Water for Elephants has better chances of being a crowd pleaser. For one thing, the book by Sara Gruen is still a hot-seller, and secondly, he is paired with Reese Witherspoon, one of the more dependable actresses in Hollywood, even though she too needs a good success.
The director Francis Lawrence (I Am Legend) has reportedly made a tight-knit emotional film. It opens in many parts of the world April 22.

Pattinson plays Jacob Jankowski, a veterinary student who begins training circus animals after losing his parents in a car accident; and has an affair with equestrian beauty Marlena (Witherspoon) creating friction with her insensitive animal-trainer husband August (Inglourious Basterds' Christoph Waltz).  It is their love for animals which bring the two together but their passion ignites many unexpected events.

Pattinson, 24, is paired with Witherspoon, 36,  for the first time.