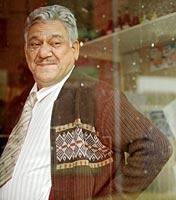 Shaikh Ayaz says West Is West is not the conventional Diaspora film but has beautifully cherry-picked music. Post YOUR reviews here!
Jehangir Khan (Om Puri), that foul-tongued chippy owner, has not changed a bit since the viewers with an interest in Brit-Subcontinent victims of cultural clashes  were first introduced to him in
East is East.
Christened George, Jehangir is still at odds with the upbringing of his various kids and he still doesn't have a kind word for them, not even for the youngest; the back-talking Sajid (Aqib Khan).
At a certain point, Jehangir craves so much for Sajid's love and attention that he entreats a sage (as if inspired by Majid Majidi's very own Rumi in
Baran
) who's taken Sajid under his wings, "Why doesn't he look at me like the way he looks at you?"
Jehangir is flawed, a character which is clearly written like that, intended to assist than dispel one in drawing a nasty conclusion of him. And in its contradictions lays a key to understanding the internal conflicts one faces in a land that's not yours, in a culture you first get drawn into and then start resenting, in circumstances you wish had you stayed away from.
Jehangir has left behind his first wife, with girls some of whom look married but never settled. In
East is East
, he was already George, having moved to England, setting up a small business and remarrying a British lady Ella (Linda Bassett) who bears him boys.
West is West
opens straight in Pakistan (it's actually Chandigarh) and upon disembarking a long line of relatives are far too happy to receive Jehangir and Sajid. In Mr Bean-like trousers, cut just above his ankle, Sajid goes on a journey of self-discovery, his roots and the country
his father is confused to call home. Jehangir is back home not for any compulsion, not because his first wife (Ila Arun) insisted in her letters to visit her and certainly not because he cares and yearns to see his daughters.
Explaining his living conditions in Britain, he reasons how he worked hard, saved every single cent to send back home to buy more land. The land he will never see, his submissive first wife reminds him. But he's home, he has to entrust Sajid in the care of an Islamic scholar so that he is relieved and find a Pakistani bride for the much-elder and the most abiding of all his sons, (Jimi Mistry).
This isn't a Diaspora film in the tradition of
East of East
because it entirely plays out in the rural fields thousands of miles away from Jehangir'a adopted home in Salford. The music is beautifully cherry-picked, mixing Sufi tunes with Punjabi folk music.
The real triumph of this seriocomedy is its writing (it reminds one a lot of Hanif Kureishi); it conveys the themes of cultural clashes, self-discovery and the fragile relationship between a father and son. Ayub Khan-Din, searching within for inspiration, provides a strong base to director Andy DeEmmomy, a foreigner who may be unfamiliar with the emotional terrain, the cultural nerves of Asia, especially India and Pakistan.
One may hate Jehangir the way he treats his kids, his wives, both love him deeply and in a touching moment, reconcile to the bitter truth but one extends empathy to him. It's because Jehangir is real. His realness underscores the writer's vision of him.
The film reaffirms one's belief in Thoreau's words, "How vain it is to sit down to write when you have not stood up to live." If the writer hadn't experienced it first-hand,
West is West
may have lost some of its realness that makes it endearingly relatable.
Rediff Rating: