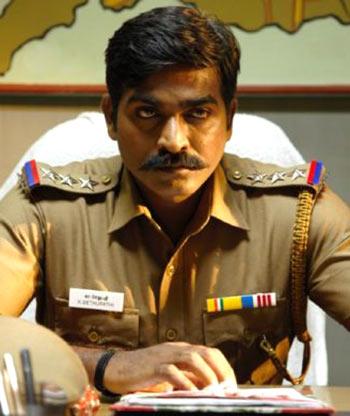 Director Arun Kumar scripts an entertaining tale packed with refreshing characters and great music, writes S Saraswathi.
Vijay combines his trademark down-to-earth style with the aggressiveness and panache that is usually associated with the onscreen cop in his latest film, Sethupathi.
This is the second outing of Vijay and director S U Arun Kumar, who had previously directed him in the critically-acclaimed Pannaiyarum Padminiyum.
Vijay and Remya Nambeesan, who shared great chemistry in the horror film Pizza, play a married couple here. Their scenes, along with their two children, form the highlight of the film. Their romance is a refreshing change from the usual boy-chasing-girl routine.
The film alternates between the life of Sethupathi (Vijay Sethupathi) as a cop and a family man. He is the guy, who loves his wife, adores his children and puts the fear of God into the hearts of criminals. The other officers in the force are terrified of him and call him a psycho.
An innocent cop is ruthlessly burnt in the middle of the night and all evidence points to Vaathiyar (Vela Ramamoorthy). Vaathiyar is a rich and powerful businessman with many shady dealings, controlling the city of Madurai.
Sethupathi vows to bring him down, but underestimates his immense reach.
The first half ends with Sethupathi's putting his career and reputation on the line by shooting a school kid, while conducting a routine robbery investigation.
The rest of the film is all about how Sethupathi clears his name.
The screenplay is interesting for most part, but lags in the second half despite a runtime of just 121 minutes.
Vela Ramamoorthy gives an impressive performance but his henchmen are mostly treated as jokers, taking away some of the intensity of the narration.
Music by Nivas K Prasanna of Thegidi fame is a big plus, especially the songs. The Hey Mama number sung by Anirudh is a huge hit, while Mazhai Thooralam in the opening credits is interestingly picturized, portraying the life and struggles of real cops.
Despite some predictable clichés, director Arun Kumar scripts an entertaining tale packed with refreshing characters and great music. But it is the terrific performance of Vijay Sethupathi that makes it worth a watch.
Rediff Rating: