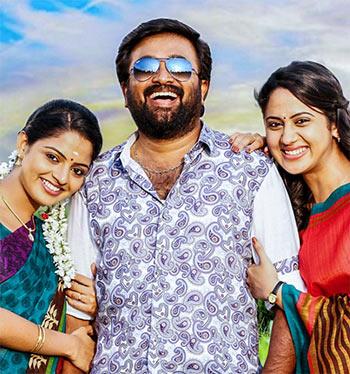 Good performances, a well-written screenplay and great comedy make Vasanthamani's Vetrivel a decent watch, writes S Saraswathi.
Director Vasanthamani makes his directorial debut with Vetrivel, a well-packaged family entertainer starring Sasikumar, Miya George, Prabhu, Thambi Ramaiah and a host of other actors.
Set against a rural backdrop, the film tells a tale of simmering family feuds, revenge, love, heartbreak and sacrifice.
The gallant Sasikumar, who thrives on playing the scapegoat with a penchant to bring together true lovers, seems to be perfectly cast.
The film, in fact, brings back his old friends -- Vijay Vasanth, Bharani and director Samuthirakani -- from his earlier superhit film Naadodigal. They make a brief cameo, much to the delight of the audience.
The film starts with a misunderstanding and ego clash between Rajamanickam (Prabhu) and his stepsister (Viji Chandrasekhar). Viji loses her husband and vows revenge on her brother.
Years go by, and we are introduced to another family in the neighbouring village: Vetrivel (Sasikumar), his brother Saravanan (Ananth Nag) and their parents (Renuka and Ilavarasu).
Saravanan, a college student, is in love with Subha (Varsha), who turns out to be the only daughter of Rajamanickam.
The two belong to different castes and Rajamanickam has other plans for his daughter. Things turn ugly when Vetrivel and his enterprising friends kidnap the wrong girl in their attempt to help Saravanan.
In an instant Vetrivel's world turns upside down.
How he manages to save the situation spiraling out of control by sacrificing his love with a Malayali research scholar Janani (Miya George) forms the rest of the story.
Though deliberately paced, the sheer number of characters and the many twists in the otherwise predictable plot keeps you engaged.
The director packs in plenty of family sentiments, romance, action and humour into the narrative. He also manages to throw in some messages, like going beyond caste-based discrimination, forgiving and letting go and respecting women.
The National award-winning Thambi Ramaiah is a total laugh riot as Othassa, the village tailor with a beautiful young wife, he has to protect from a horde of admirers.
Prabhu and Viji Chandrasekhar have a meaty role and give an admirable performance. Miya George, however, has been sidelined.
Sasikumar offers nothing new in Vetrivel, but his sincerity and earnestness keeps the momentum going. He certainly succeeds in entertaining the audience.
Technically, the film is not very impressive: D Imman's music and SR Kathir's cinematography is unremarkable.
The long drawn out climax also tests your patience. But some good performances, a well-written screenplay without excessive melodrama and some great comedy make debutant director Vasanthamani's Vetrivel a decent watch.
Rediff Rating: