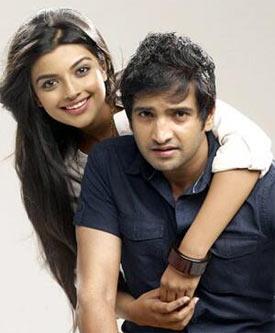 Santhanam's Vallavanukku Pullum Aayudham, a remake of Telugu blockbuster, Maryada Ramanna, is slow and unexciting and does little to keep the audience entertained, writes S Saraswathi.
Santhanam is one of the most sought after comedy actors of the Tamil industry today. He makes an ideal sidekick, perfectly complementing the hero, providing the much-needed relief from excessive action, drama or romance with his trademark wit and charm.
Now he wants to cash in on his increasing popularity and try his hand at playing the hero.
He makes his acting debut in the remake of the 2010 Telugu blockbuster Maryada Ramanna, the film that was later successfully remade in Kannada as Maryade Ramanna and in Hindi as Son of Sardaar.
Titled Vallavanukku Pullum Aayudham, the film is jointly produced by PVP Cinemas and Santhanam's Handmade Films, and directed by Srinath.
Mumbai based model Ashna Zaveri plays the female lead supported by Nagineedu, Mirchi Senthil, VTV Ganesh, and Rajakumaran.
The film opens with an old family feud that flares up and kills the father of Shakti (Santhanam) and the brother of his uncle Singarayar (Nagineedu).
Fearing for her son's life, Shakti's mother flees the village. However, Singarayar and his two sons, pledge to take revenge.
Twenty-seven years later, Shakti, who has fallen on bad times, decides to return to the village to claim his father's property. On his journey to his ancestral village, Shakti meets Vaanathi (Ashna Zaveri), Singarayar's daughter.
They become friends and later fate directs Shakti to Singarayar to seek help to sell his father's lands. Thus, unknowingly, Shakti has entered the lion's den.
Soon Singarayar discovers that it is Shakti that he has sworn to kill, but bound by the age-old tradition that guests, even if they are enemies, should be treated as gods, he is helpless. He must wait till Shakti leaves his house before making his move.
Shakti, however, stumbles upon the truth and the rest of the film is all about the feeble excuses he invents not to step out of the house.
Santhanam has undoubtedly put in a lot of effort - a new hairstyle, slimmer look, several songs, complicated dance moves, emotions, romance, and of course some action, but the spark just isn't there.
The film does have his witty one-liners but the added pressure of shouldering the responsibility of an entire film is quite evident.
He appears rather lost sometimes; also, there is nothing in the script that actually utilises or appreciates his laidback charm and sarcasm that has made him so popular.
Ashna Zaveri may not have much to do in the film, but she looks pretty as a picture and gives a decent performance. Nagineedu is impressive as the villain.
One other character that deserves mention is Santhanam's talking bicycle that mouths rhyming dialogues and songs in typical T Rajendar style, evoking much laughter in the audience. Apparently, T. Rajendar has sportingly lent his voice for the cycle.
Music by Siddarth Vipin is average, except for the Takkaru Takkaru number.
Neither the cinematography nor the editing deserves any mention; in fact, the second half seems to go on forever and the long melodramatic climax is quite tedious.
The plot may have worked earlier, but unfortunately Santhanam's Vallavanukku Pullum Aayudham is slow and unexciting and does little to keep the audience entertained.
Rediff Rating: