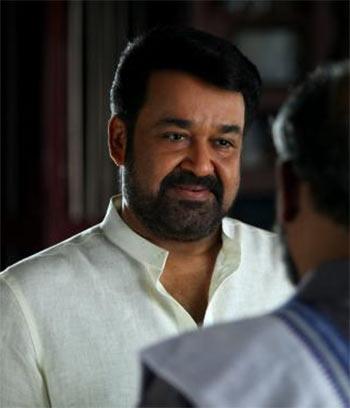 Even super star Mohanlal can't salvage the disaster that is Malayalam film Rasam, says Paresh C Palicha.

Rasam, directed by veteran filmmaker Rajeevnath, has little going for it.
In the film, a traditional cook is sent to a Gulf country to cook for the wedding feast of a Malayali millionaire's daughter.

The plot reminds one of Kalyanaraman (2002), directed by Shafi, that told the story of a family of traditional cooks in a humorous way.
Valliyottu Thirumeni (Nedumudi Venu) is a renowned traditional cook, but his son Balu (Indrajith), who has a BTech degree, does not respect his father's calling and is on the look-out for employment that suits his educational qualifications.
His father is offered the job to cook for the wedding of the millionaire Menon (Devan). He is persuaded by Megastar Mohanlal (playing himself) to accept it.
Balu and Thirumeni's assistant Govindan Nair (Nandu) are sent eight days in advance to oversee the preparations.
Balu looks at it as an opportunity to visit his friends who are working there and to secure a good job.
Balu gets entangled in the millionaire's family situation that goes beyond his responsibilities as a cook. When his father falls sick, he has to take his place. In the process, he finds his true vocation.
The proceedings on the screen do not engage at all. It looks like the actors are sleepwalking their way through their parts.
The famous screen presence of Mohanlal cannot rescue this sinking ship though he makes a sincere effort to do so.
The only thing we can say of this Rasam is that it's bland.
Rediff Rating: