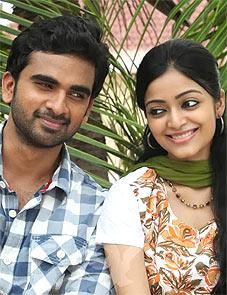 Thegidi, directed by debutant P Ramesh is an exciting investigative thriller revolving around a massive insurance scam, writes S Saraswathi.

The latest to jump on the bandwagon of short filmmakers, who have graduated to mainstream cinema, is director P Ramesh with his maiden venture, Thegidi.

The film is produced by noted producer, C V Kumar of Thirukumaran Entertainment in association with ABI TCS Studios and Vel Mediaa.
Thegidi features Ashok Selvan and Janani Iyer in the lead roles supported by Jayakumar, Jayaprakash, Kaali, Pradeep Nair and others.
The film has music by debutant Nivas K Prasanna, who has already received rave reviews and is being touted as the next A.R. Rahman.

Thegidi's cinematographer, Dinesh Krishnan and editor, Leo John Paul, are both well known for their contribution to the success of the 2013 blockbuster Soodhu Kavvum.

Aptly titled Thegidi or deception, the film is an exciting investigative thriller that revolves around a massive insurance scam.

Vetri (Ashok Selan) has just completed his Master's in Criminology and is placed at a detective agency. As a fresher, his job is to shadow the movements of certain individuals and gather all the relevant information about their daily routine.

Things are fine until one day he falls in love with the woman he is shadowing, Madhushree (Janani Iyer), an orphan, who is staying with friends. Though it is against company policy to get in touch with the subject, Vetri cannot help himself.

He approaches her and they fall in love. Vetri now starts to wonder about the client who has requested intelligence on Madhu. Though he is not privy to such information, he is determined to find out.

But before he can do so, he unearths certain other strange facts about the Agency.

Vetri has to use all his skills as a detective to find out the truth.

Ashok's character seems quite similar to the one he played in his previous film, Pizza 2: Villa. In both films, he is on a desperate mission to unravel a deeply hidden secret and he seems to be quite proficient at investigating.

Janani has nothing much to do in the film. Jayaprakash stands out amongst the supporting cast.

Technically, too, the film is brilliant. The music by Nivas is an absolute joy. All the songs, as well as the background score are perfect and so is the camera work by Dinesh Krishnan, who has captured the essence of the film.

On the downside, the story lacks the racy element that could have made the film a truly edge-of-the-seat thriller.

But at exactly two hours, editor John Paul seems to have fulfilled his part. Initially, the suspense builds up, but just when you expect things to heat up, we feel a bit let down.

Overall, a great effort by debutant director P Ramesh, who seems to have extracted the best from his team, be it the actors or the technicians.

Rediff Rating: