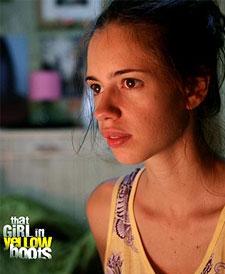 Sukanya Verma feels That Girl In Yellow Boots is another fine specimen of Anurag Kashyap's style of filmmaking. Post YOUR reviews here.

I've always thought boots make a fascinating metaphor for struggle and survival.
They walk through intense highs and extreme lows, into murky waters, above rugged paths. Not always above suspicion though, their darker side comes into play when the tough exterior of a sole tramples on soft, blameless grass. Nevertheless, they amble on, till the wear and tear of daily dirt and stressful challenges puts an end to their travels.
Though
That Girl in Yellow Boots
, with its enigmatic title and sharp imagery, isn't always as reflective as I would have liked it to be, it is, ultimately, an Anurag Kashyap film, which amounts to a certain level of edge and blatancy. Known to push the envelope with his uncompromised vision around stark subjects without prioritizing the profit aspect, Kashyap commands respect among his colleagues, collaborators, critics and cinemagoers with good reason.
Yellow Boots
, co-written by him and wife Kalki Koechlin, also essaying the 'Girl' in the title, is a compilation of abstract frames, which often stir from their surreal state to expose the ugly, upsetting corners of society.  The narrative refuses, almost doggedly, to follow a conventional structure. Instead like fluttering pages of a disorderly diary, it is puzzling, self-indulgent, wandering and personal.
For most part, TGIYB is about a British girl named Ruth (Koechlin) living in Mumbai and working at a shady massage parlour without a permit. Unlike the easy-to-fleece phirangs, one is accustomed to seeing in Bollywood films, Ruth is street-smart, speaks (and cusses) in broken Hindi and knows her way around red-tape India.
Ruth would have probably endorsed the Janlokpal Bill, especially when you think about her numerous encounters with cantankerous sarkari hacks inside stuffy government offices juggling between lustful stares, proposed bribes (or donations like Ruth puts it) and gulps of Digene.
Truth is it takes something more potent than a popular antacid to understand the psychology behind Ruth's
strange rebellion and indistinct pursuit. An Osho enthusiast, she's overstaying her visit to India against her wary mother's wishes, learning Hindi and dating a crime-affiliated dope-addict, tackling his neurotic nemesis while earning an extra grand by giving handjobs to creepy massage clients; all because of an affection-filled, address-less letter from her estranged Indian father.
For the longest time,
Yellow Boots
repeatedly goes over the script's key characteristics against Naren Chandavarkar, Suhaas Ahuja and Benedict Taylor's spellbinding score. Meanwhile, cinematographer Rajeev Ravi captures regular sights of Mumbai with such engrossment and relish; it's not long before you begin to see the extra in the ordinary.
Sleekness alone, however, doesn't make a film. There's a lot about
Yellow Boots
that insists you bank on assumption because it strives on build-up.  When the moment of truth arrives, while never as staggering, it is rather disconcerting.
Other than presenting opportunities in Ruth's hunt for daddy,
TGIYB
often distracts itself with the parlour owner's (a pitch-perfect Puja Sarup) incessant telephonic babble or side-tracks to focus on the men she constantly interacts with -- the gutless, grisly boyfriend (Prashant Prakash), an emotionally-disturbed, Kannada-spewing gangster (Gulshan Devaiah), an influential bureaucrat (Shiv Subramanium) and Ruth's two faithful customers played by Naseeruddin Shah and Kumud Mishra. All these actors, Prakash and Devaiah in particular, impress with their unfailingly gritty and relentless portrayals.
If I rely on reason, I'd say she's no damsel-in-distress but a voluntary freak with low self-worth and tendency to complicate life. If I believe Ruth, she's just young, needy and unapologetic about her choices or exploitations. Regardless of the ambiguity that shrouds Ruth, Kalki entrances you into liking Ruth. As the camera lovingly settles on her distinctly oval, unblemished face, complimenting her 'Julia Roberts-meet- Bugs Bunny' grin, you discover there's something intensely original about this actress beyond the obvious. She's raw, understated, unrestrained and uncorrupted.
That Girl in Yellow Boots
underscores her courage and charisma as an actress coming into her own.
Rediff Rating: