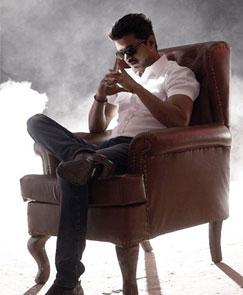 S Saraswathi says Vijay giving an amazing performance in Thalaivaa which is full of action, drama and emotion.

After much drama and controversy, Ilayathalapathy Vijay's Thalaivaa, one of the biggest and most anticipated films of the year, finally released in theatres in Tamil Nadu and Pondicherry. The film had run into some trouble due to several issues like bomb threats to theatre owners, the entertainment tax waiver issue, as well as the alleged political content of the movie.

Thalaivaa is directed by A L Vijay and has Amala Paul of Mynaa fame playing the female lead opposite actor Vijay. The film also features Sathyaraj, Santhanam, Ragini Nandwani, Rajiv Pillai, and Abhimanyu Singh.

The film was dubbed and released simultaneously in Telugu as Anna - Born to Lead.

Inspired by Nayagan and Sarkar (the director thanks Mani Ratnam and RGV in the opening credits), Thalaivaa is all about how circumstances force an individual to don the mantle of leadership.

The story opens in Mumbai in 1988 with the death of Vedhabhai, an underworld don, who looked after the interests of the Tamils in the Dharavi slum area. His death triggers violence in the area as his rivals attempt to take control.

It is at this time that Ramadurai (Sathyaraj) intervenes and offers his protection to the people. Unfortunately, his wife is killed in the struggle. Not wanting to taint his only son Vishwa (Vijay) with the path of violence that he has chosen, Ramadurai sends him to Australia with a friend.

As the years go by, Ramadurai grows more and more powerful and respected. The people lovingly refer to him as Anna, their leader and saviour.

Meanwhile, Vishwa grows up to be a passionate dancer in Sydney, Australia, where he and his friend Logu (Santhanam) own a mineral water bottling factory. Vishwa meets Meera (Amala Paul) while supplying water to her father's restaurant and they fall in love.

Meera's father too is happy with her choice, but wants to meet Ramadurai to discuss marriage plans. The first half of the movie ends with the three of them leaving for India, where Vishwa is in for a huge shock as he has absolutely no idea that his father is Mumbai's most feared underworld don.

The film which until then seemed like a light-hearted romantic comedy suddenly takes a very serious turn with lots of violence, bloodshed, vengeance and death. We also have the usual crooked policemen and the corrupt politician along with several Hindi-speaking goons.
The transformation of the young and carefree Vishwa into the mature and intense Vishwabhai, both physically and emotionally, is brilliant. Actor Vijay has given a very subtle yet powerful performance.
In fact, except for Abhimanyu Singh, who plays the villain, almost everyone has given a good performance. Sathyaraj though could have been given a bigger role to play. Santhanam is hilarious with his typical one liners and Amala Paul does not just add to the glamour quotient, but has an important role to play in the story.
Thalaivaa has music by G V Prakash and the songs have definitely clicked with music lovers, especially the younger generation. The song, Vaanganna Vanakkanganna by actor Vijay is one of the highlights of the movie; it has the young G V Prakash dancing to the beats along with Vijay and Santhanam.

Another major plus for the movie is the cinematography. Cameraman Nirav Shah has cleverly captured both the relaxed and friendly atmosphere of Australia and the frenzied hostile environment in Mumbai, thereby creating two completely different moods in the film.

Though the plot is not new and there is not enough pace, the film does have enough twists and turns to keep the audience engrossed. The biggest letdown, however, is the length--the film just seems to go on forever.

Ilayathalapathy Vijay's Thalaivaa has loads of action, drama and emotion but there is no denying that the film is a one-man show. It is Vijay all the way.

Rediff Rating: