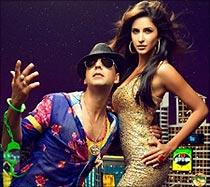 Sukanya Verma Reviews Tees Maar Khan. Post YOUR reviews here!
 
Three things I didn't expect: Logic, realism or Shah Rukh Khan.
 
Three things I did: Fun, Farah-styled humour and VFM entertainment.
 
The conclusion I've arrived to is:  Things that happen in La la la land, should, um, stay there?
 
The reason I sound so utterly let down is: I lurrrve masala movies. To be more specific, I love Farah Khan's work. Be it Main Hoon Naa or Om Shanti Om, the lady just bombards the screen with pomp and show. At the same time, she demonstrates her know-how of the medium and skills at pulling off improbable scenarios while masterfully juggling tears, smiles, campy in-jokes to put forth some 16 reels of unstoppable entertainment. It's escapist, irreverent and super duper cool. Tees Maar Khan, regardless of its boastful title, is anything but.

What TMK really is: Akshay Kumar slips into the titular avatar as a renowned con artist. He's assigned to orchestrate a train robbery by conjoined twins (Raghu Ram in an interesting gimmick that never realises its full potential). To accomplish this, Khan dons the director's hat (Manoj Day Ramalan, anyone?) and fools an Oscar-obsessed Akshaye Khanna along with the villagers of little-known Dhulia into believing they're part of some patriotic drama that entails looting gold from a British goods train.
 
Buying last-minute official rights of After the Fox is: Hardly my idea of damage control. Moreover, the print that I watched credited Shirish Kunder (also one of the producers, dialogue and screenplay writer, editor, background scorer and guest composer) and not Neil Simon for the story.
 
What I liked about After the Fox: The beauty of this Peter Sellers comedy is that it relies on the camaraderie between a semi-retired Italian conman and a 60-something insecure American superstar against the backdrop of an entire village's naivete. A con works like magic only when it's carried out with smooth, poker-faced nonchalance. Sellers understood this requirement like a charm.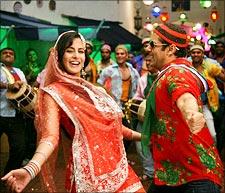 TMK's foremost crime is: It takes a long-winded route (crammed with lackluster Vishal-Shekhar songs) to get to the same point and robs the source off its rusticism substituting it with eye-squinting razzle-dazzle, playing up the cocky swagger of its background score-aided hero.
Things get to a point when tired of Akshay's bright, florid fuchsia shirt and chronic phrase 'Khanon mein Khan, Tees Maar yadda yadda,' I resign to admire the advertising overload of Good Earth's gorgeous crockery, lamps, furnishings and what not. Comedy turned catalogue, how funny is that?
 
And this is how the cookie crumbles:  Is TMK secretly a tribute to Dolly Bindra? You see, e-v-e-r-y-o-n-e screams in the film. Right from the leading man, his filmi mom, filmi girlfriend, filmi sidekicks to the last junior artist perched atop a mid-sized tree. Unless, the title's Cheekh Maar Khan, this decibel of cacophony is simply unacceptable.
Also, please Farah, you really have to let go of your loud mummy fetish. First Kirron Kher, now Apara Mehta. Surely, the world can be a happier place without such theatrical screen matas. AND there's Salman Khan too! The Dabangg hero pitches in his starry presence, clad in an equally flashy red shirt to match Akshay's rani pink, to burst into a colourful even if completely avoidable qawaali.
 
Masala films are an art form too: They require achieving a difficult balance between fun and far-fetched. TMK, however, stretches beyond the realm of corny. Quite confusing why a filmmaker with razor-sharp candor and snazzy sensibilities should okay a rewrite this unfunny and disorderly?
 
Where the director really goes wrong is: Can't help wishing she should have written/adapted this one as well. She indulges a perfectly sloppy version of an officially-purchased plot, that's more Anees Bazmee than Farah Khan. You don't expect horror-lines like 'Mere nange haath tumhare nange gaal par... so on so forth.' It's all dumb, dumbed down, jarring or contrived.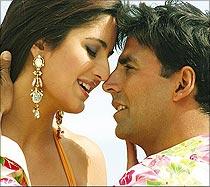 Where's the wit, the cheek or the nifty attitude that sets her apart from her peers? As much as I giggled over her slapstick concepts like Satish Shah's spitting professor in MHN or SRK's Apahij Pyaar sequences in OSO, I don't understand what's so chuckle-worthy about all those needless homophobic jokes or a garish secretary types running after his flying toupee?
 
Moments of pungent humour are far too few and in between:  There's a scene in which Chunky Pandey is filming a Holi number when Akshay and his cronies show up to steal all the shooting equipment. Thrilled at spotting Chunky, one of the sidekicks exclaims something to the effect like, 'Dude, that's Chunky Pandey. I used to be a fan.' The disapproving glare on his accomplices compels him to instantly retract his words and plead, 'Insaan se kabhi kabhi aisi galti ho jaati hai (Everybody makes mistakes).'
 
Another one that comes to mind is the 'Ismile Khan' episode inspired by Happydent's fluorescent smile commercials, it's quite a droll.
 
The only other time you chuckle is when: Akshaye Khanna shows up to convey his manic resentment over Anil Kapoor's success in Hollywood, post-Slumdog Millionaire, a role he was originally offered. He handles this hysterical character with such control and conviction; you can't help but admire his gusto despite the foolhardiness of it all.
 
As for the other Akshay: The gummy grinner appears to be having a good time calling the shots. Too bad TMK doesn't take him seriously beyond a smirk.
 
Everything's not lost: In all likelihood TMK will take a smashing opening courtesy Sheila and her much-touted jawaani. Katrina Kaif's vibrant jig highlighting her never-ending midriff and rollicking confidence is packaged in a high-voltage showstopper that seems destined to become the Ek, do, teen of her career. But that's not going to wipe the disappointment off genuine admirers of Farah's quirky creativity, including yours truly.
 
Rediff Rating:



Download wallpapers, ringtones & more!