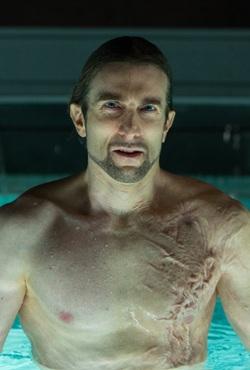 Watching Oldboy feels like you're watching a history lesson on the projector in your seventh grade class, according to Paloma Sharma.

Hollywood is clearly outsourcing. The remake bug seems to have bitten Spike Lee quite hard.

Lee's Oldboy is a remake of South Korean director Park Chan-wook's legendary film of the same name, which was further based on Garon Tsuchiya and Nobuaki Minegishi's Manga graphic which, again, has the same title.

Oldboy stars Josh Brolin as Joe Doucett, a divorced father and advertising executive who moonlights as a drunkard and womanizer.

After failing to close a deal because he hit on his client's girlfriend, Joe finds himself out of a job and wanders the streets inebriated until he finally blacks out.

When he wakes up, Joe finds himself in captivity, where he finds out that he is the prime suspect in the rape and murder of his ex-wife and that his daughter has been adopted by another couple. Joe remains captive for 20 years until one day he is released as abruptly as he was captured. But the questions haunt him. Who would want to kidnap and torture him, and why? Most importantly -- why did they let him go?

Brolin will probably be able to save his career after this debacle thanks to some decent acting -- if you can get over the first attempt at pretending to be drunk -- the same cannot be said for Sharlton Copley who plays Joe's arch nemesis.

Copley might have blown you away in Elysium but he will make you snort your popcorn out through your nose as you try to breathe between fits of laughter once you hear his British accent.

Elizabeth Olsen stars as Marie, Joe's love interest, and is constantly found simpering on the sidelines. Olsen's vulnerable female character with a pained past has been done so many times in revenge thrillers that I could yawn.

I honestly do not understand what Spike Lee was thinking. Although Oldboy is not a shot-to-shot remake, it has nothing much to add to the previous
versions. Lee's version does not even interpret things differently.
Even if you haven't watched the original South Korean film, you may have seen the film made by our very own Sanjay Gupta, called
Zinda
(starring Sanjay Dutt, Lara Dutta and John Abraham).
You've also seen bits and pieces of
Oldboy
in other action thrillers and revenge flicks. Joe and Marie's romance reminds you of something picked out of a direct-to-DVD Dolph Lundgren/Van Damme/Steven Segal film.
Aside from the back that Joe does not set his room on fire, the closing shot of him feels eerily similar to that of Gerard Butler in
Law Abiding Citizen
.
Although
Oldboy
is supposed to be about simmering rage and deep-rooted hatred, it eventually becomes about incest.
Back stories are more detailed in this version, which is one rare plus point but Lee fails to use that to his advantage.
All the little particulars that have been carved out for the remake appear to render Lee helpless instead of making him a more powerful storyteller.
Although Joe Doucett's impressive physical transformation is depicted in great detail, the tale of his mental and emotional journey is only half told.
Oldboy
features fairly interesting fight scenes and a whole lot of gore but because the film lacks a personal touch from the director, you feel numb even though you watch half of a man's head being blown to bits after he shoots himself in the mouth.
Watching
Oldboy
feels like you're watching a history lesson on the projector in your seventh grade class. While the visuals may be dark and slick, there is really nothing about the film that feels even a tiny bit humane.
Cyborgs might as well have crafted this.
I'm going with half a star for Spike Lee's
Oldboy
and that's only because of Sean Bobbitt (Shame, Byzantium) and his dreamily morbid cinematography.
Oldboy
is not for the weak-hearted.
Or film lovers.
Or just people, in general.
Rediff Rating: