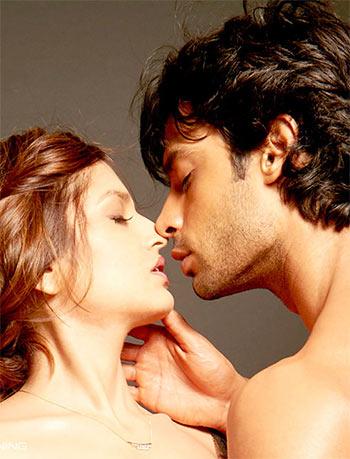 Vikram Bhatt's new film Love Games, starring Gautam Arora, Tara Alisha Berry and Patralekha, has some good songs in its album, feels Aelina Kapoor.
Composers Sangeet and Siddharth Haldipur and lyricists Kausar Munir and Vikram Bhatt give us something worthwhile in their latest film, Love Games.
They get it right in Awargi that may well have been featured in a Mahesh Bhatt film.
A trademark outing, Sangeet Haldipur sings in a way that would have made Emraan Hashmi proud. Rasika Shekhar adds her husky voice as well. A good listen.
Aanchal Shrivastava sings some weird lyrics in the Love Games title track, which comes up next.
Sangeet Haldipur gives us a soft number Mohabbat. It is easy on the ears but sounds like an ad jingle. Decent sounds, but no impact.
One wonders what brief Kausar Munir got when she penned the song, Nirvana, that fires all cylinders. Singer Mohan Kannan takes his job quite seriously in this song.
Surprisingly, Sunidhi Chauhan arrives into the scene quite late in the album. She does well in the haunting track Aye Dil, which is written rather well by Kausar Munir.
What follows next brings a different texture to the album, as Vikram Bhatt, the lyricist, takes over. His first number is Lock Him Up, which goes into a Western mode, and is about revenge. Sangeet-Siddharth rope in Sonia Saigal to do the honours. Ravindra Chary sings Lock Him Up!
On the other hand, Shon Pinto sings Poison as if he has been offered a job by Farhan Akhtar to do a rock number in Rock On 2.
Rediff Rating: