A well-executed film with good performances, Sigaram Thodu is definitely worth watching, says S Saraswathi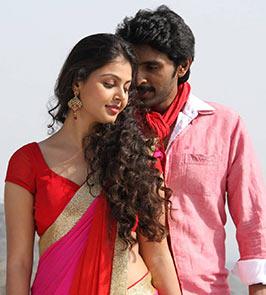 Vikram Prabhu made his debut in 2012 with the critically acclaimed, Kumki and since then he has been steadily establishing himself in the Tamil film industry.
His previous film Arima Nambi was a huge success and now he is back with yet another winner, Sigaram Thodu.
Produced by UTV Motion Pictures, the film is directed by Gaurav Narayanan of Thoonga Nagaram fame.
Monal Gajjar, winner of the Miss Gujarat title, makes her debut with this film, while veteran actor Sathyaraj essays a significant role.
An exciting action thriller, Sigaram Thodu is inspired by ATM and credit card frauds, highlighting the modus operandi and the high level of sophistication involved in these operations.
Intertwined with this narration is the beautiful bond shared by a father and son.
Chellappa (Sathyaraj) is an ex-cop, who has lost his leg in the line of duty. His greatest desire is to see his only son, Murali Pandiyan (Vikram Prabhu) become an exemplary police officer.
Murali, however, wants a job with no risks as he does not want to end up lame like his father.
His love interest, Ambujam (Monal Gajjar) is also the daughter of a police officer. She too is not a big fan of men in uniform and has plans to marry someone with a normal nine-to-five job.
Not wanting to hurt his father, Murali agrees to attend the officer's training programme. At the same time he promises Ambujam that he will get himself certified medically unfit and the problem will be solved.
Unfortunately for him, the chief at the Academy is Ambujam's father and also a long-time friend of Chellappa.
The chief promises Murali that if he successfully completes the training and works for a period of 30 days as an officer, he will talk to his father and get him out of this mess, and also get his daughter Ambujam married to him.
Simultaneously, we are introduced to the credit card fraudsters, one of whom is played by director Gaurav Narayanan.
Performance wise, both Vikram Prabhu and Sathyraj are excellent. Monal Gajjar looks pretty as a picture and gives a good performance too.
The music by D Imman is pleasing; the melodious Pidikkudhae is visually stunning, while legendary singer K J Yesudas enchants us with his beautiful rendition of Anbulla Appa. The BGM too keeps the momentum going; however, a couple of songs are totally out of sync.
Cinematographer Vijay Ulaganathan has done a great job behind the camera and so has editor, K L Praveen.
The director keeps you hooked from the first shot with his well-written script that cleverly weaves the commercial elements into the realistic narration.
A well-executed film with good performances, Sigaram Thodu is definitely worth watching.