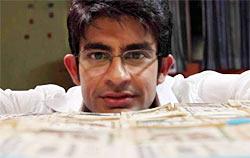 Shree, though ambitious, suffers because of an over-wrought plot that is too tedious to follow, writes Ankur Pathak.

The genre of science fiction still remains largely unexplored in Hindi films. More than the lack of conceptual originality, it is also the restrained budgets that make for tacky production values, resulting in something borderline ambitious, but terribly underwhelming and at times, unintentionally funny.

Similar is the case of Shree, a film that delves into the concept of time-travelling with a set-up that is engaging initially. But its convoluted plot-points become too tedious to keep a track of, and by the time we reach the interval, nobody, and this includes the actors in the film, have any idea of what is going on.

Shree (Hussain Kuwajerwala) is an accountant in a telecom major, earning peanuts for salary. His ambition is to own a one-room-kitchen flat in Mumbai: the girlfriend's mother's primary requirement.

To make a quick buck, Rs 20 lakhs to be precise, he agrees to be a part of an undisclosed but assuredly sinister experiment that demands 12 hours of his life. Sensing trouble within minutes, he makes a dash outside only to realise hell's fury has been unleashed like never before, and he's been accused of killing as many as three people, including the police commissioner of Mumbai!

We think that Shree has been made a clone of, and it's the devilish version responsible for the killings, but a rather funny twist where the word 'future' is repeatedly abused, leaves us startled in the 'are-you-serious?' way. The rest of the film becomes an unadulterated guilty pleasure trip, with a lot of confusion thrown in.
In the midst of all this confusion, Hussain almost always appears perplexed with wisdom dawning upon him as promptly as the camera zooms on his face.
We can give some value to the story but Shree's biggest drawback is its unskilled story-telling. It doesn't reveal the nature and intricacies of the said science experiment when it must, and by the time it does, there is too much talking/flashbacks/voice-overs/betrayal for the suspense to systematically unfold.
Debutant Rajesh Bachchani's direction is inconsistent and raw. It leaves the film with an unnatural, student-project treatment with badly composed shots and an overkill of the hackneyed background score.
There are multiple chase-scenes, some of which are very unremarkable.
One viewing of Bejoy Nambiar's Shaitan is enough to leave you inspired to approach a chase in an edgy fashion but Shree is a strange concept of its own.
The camera-work is lousy and amateur.
To give credit where it's due, Hussain Kuwajerwala enacts his part with considerate conviction. His persona resembles the anxieties of a middle-class man in unexpected trouble.
The girl, Anjali Patil, goes a little overboard with her Marathi but remains consistent in her character.
The supporting characters are substandard and hamper whatever Shree could otherwise achieve
In any science fiction movie, it is important that the viewer has faith in the undertaking in the first place, which is justified and explained by, quite literally, by the science behind it. Shree doesn't quite posses any, nor has any personality or conviction to sail its boat successfully. What it becomes, is an embarrassing debut for its many first-timers.
Rediff Rating: