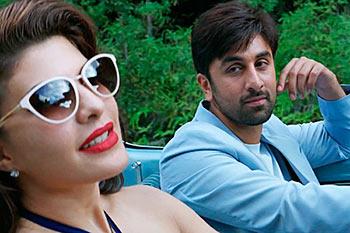 The music of Roy is a winner all the way, says Joginder Tuteja/ Rediff.com
At last there comes an album that can be played on a loop.
Every song of Roy works well.
Young composer Amaal Mallik deserves full marks for Sooraj Dooba Hai. It's a beautiful tune with a good mix of rhythm and melody.
The song is sung by Arijit Singh and has a club sound but still makes for pleasant listening.
When its remix version arrives, you don't mind the repeat listening with the reliable Aditi Singh Sharma partnering Arijit.
This one, written by Kumaar, is a chartbuster.
From this point on, composer Ankit Tiwari takes over. He gets into killer mode with Tu Hai Ki Nahi.
With his Sun Raha Hai Na Tu (Aashiqui 2), Galliyan (Ek Villain), Dil Darbadar (PK) and now Tu Hai Ki Nahi, Ankit is indeed the go-to man when it comes to the dard-e-dil bayaan in a melancholic manner.
Newcomer Abhendra Kumar Upadhyay spins just the right kind of lyrics to go with the song.
Tu Hai Ki Nahi is the flagship number of Roy and deserves the equally impressive unplugged version by Tulsi Kumar.
Guest composers Meet Bros Anjjan are roped in for another fun number (after Baby Doll in Ragini MMS-2). Kanika Kapoor renders the love song Chittiyaan Kalaiyaan, which has much the same rhythm as Baby Doll, sans its naughtiness.
Written by Kumaar, the song is a happy one and changes the mood of the album. Also, it is one of those rare numbers where the antara is as impressive as the mukhda.
Ankit Tiwari returns along with lyricist Abhendra Kumar Upadhyay, to create yet another melody much like Tu Hai Ki Nahi. Boond Boond is yet another impressive song of this album, and one of the best to have been released in recent times.
The last number is Yaara Re. It's a pleasure to have the talented KK back on the scene. He has been keeping a low profile of late, but whenever he makes an appearance, he makes it count.
This beautiful melody is by Ankit Tiwari with lyrics by Sandeep Nath that take forward the film's narrative.
Yaara Re has sad undertones yet you want to hear it again and again.
The music of Roy is a winner all the way. In the month leading to the film's release (on February 13, the weekend before Valentine's Day), the songs will surely be played across music channels.
Rediff Rating: