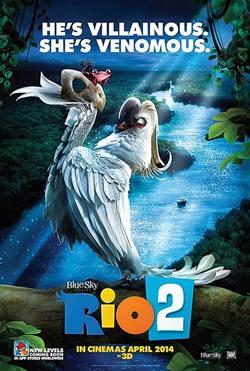 Rio 2 features some lovely, complex animation and a vivid, cheerful colour palette but is a one-time watch at best, says Paloma Sharma.

It's like Meet the Fockers!

Except that it has blue macaws. And it is set in the Amazon. Also, this one's child-friendly. Confused?

Don't worry, there's enough stunningly choreographed song and dance to keep you distracted from that trivial little thing called a plot.

Sequel to 2011's surprisingly refreshing Rio, this one sees Blu (Jesse Eissenberg), Jewel (Anne Hathaway) and their three children taking a trip to the Amazon to help Linda (Leslie Mann) and Tulio (Rodrigo Santoro) locate a lost flock of the endangered Spix's Macaws, which they believe are hiding deep in the Amazon.

However, animals aren't the only thing Linda and Tulio come across.

An evil businessman is running an illegal logging operation in the protected forest area and he's not too keen on having a couple of "tree huggers" shaking things up. Will Blu and family get to them before its too late?

Deep in the heart of the Amazon, old friends are found... and so are old enemies.

It must be understood that films like Rio 2 are made simply because they can be made.

Since Rio was a hit and the franchise must be kept alive long enough to milk it for merchandise, Rio 2 has come into existence.

However, that doesn't necessarily imply that it is unwatchable. Quite the contrary, really.

Rio 2 features some lovely, complex animation and a vivid, cheerful colour palette.

The song and dance sequences might be a little too many in number but they are choreographed with more attention to detail than any shaadi song in a Karan Johar film. A refreshingly lighthearted cover of Gloria Gaynor's I Will Survive, with aptly modified lyrics, is one of the musical bits to watch out for.

Nigel (Jemaine Clement), the conniving Cockatoo returns with company this time.

Charlie, a collard ant-eater is bullied into carrying out Nigel's nefarious schemes while a beautiful neon-pink spotted poison frog called Gabi (Kristen Chenoweth) tags along out of her love (read: chronic obsession)
for Nigel.
Gabi's storyline is quite an interesting one. She has fallen head over heels for Nigel but can never touch him because she's poisonous and the way this doomed, one-sided love affair plays out is hilarious.
However, Blu and family's character arcs go the predictable way and fail to create even an ounce of suspense.
The experimentation occurs with supporting characters like Rafael, the family man Toucan, Nico and Pedro, the talent scouts for the carnival, and Roberto (Andy Garcia), Jewel's childhood friend and the "birdliest bird around" with flowing locks... erm, feathers.
There are a lot of other, minor characters with great musical act that are more funny than they are serious performances.
With the bulk of the responsibility of the entertainment factor falling on the shoulders of villains and sidekicks instead of protagonists, the jokes and comic sequences fail to come together despite existing (and thriving) in individual corners of the film.
The soundtrack is absolutely amazing!
It is exactly what you need to listen to if you're having a bad day and need something to lift your spirits.
Rio 2
is funny, no doubt, but it could have been so much funnier had makers chosen to explore instead of playing it safe. It is also a great way to entertain the kids for an afternoon. But don't expect the little ones to fall in love with it.
At 101 minutes of run time,
Rio 2
is the perfect length -- which is the one thing it gets 100 per cent right.
The sad part is that
Rio
was a really fun film and it would have stayed that way if one hadn't watched
Rio 2
, because now that I know the extension to that story, it's a little bit difficult to like the first one as well as I did before watching the second one.
Strictly confined within the box and The Formula,
Rio 2
might be the Ram-Leela of animation/Hollywood when it comes to visuals but as far as children's films go, it remains less innovative.
Rediff Rating: