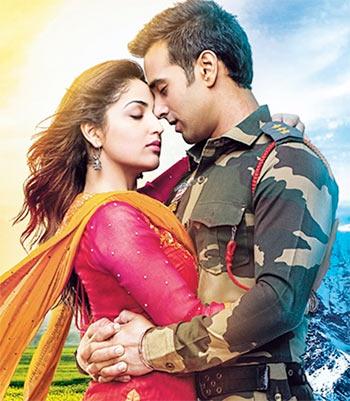 The first half of the film is tolerable courtesy the exotic locations but the second half, with all its drama and sappiness, is just too much to handle, feels Namrata Thakker.
Junooniyat, directed by Vivek Agnihotri, is Pulkit Samrat and Yami Gautam's second outing together.
The duo was first seen in Divya Khosla Kumar's romantic drama Sanam Re, which released in February this year.
The latter failed to pack a punch at the box office; Junooniyat won't either.
Coming straight to the point, Junooniyat has nothing new to offer as far as the romantic genre is concerned.
Though Pulkit and Yami's chemistry got people talking about Sanam Re, their chemistry in Junooniyat is hardly sizzling.
Apart from the beautiful Himalayan locales and the shayaris that you get to hear every now and then, there is nothing really to boast about in the film.
Junooniyat is about two people who meet, fall in love and then decide to part ways for a reason. But this is a Bollywood film so a happy ending is inevitable, right?
Jahaan Bakshi (Pulkit) and Suhaani Kapoor's (Yami Gautam) love story begins after the former saves the latter's life. Jahaan is a good-looking army officer and Suhaani is a typical, chirpy Punjabi kudi.
The first half of the film is about these two characters falling in love, so it's all happy and lovey-dovey. The second half is exactly the opposite.
It's full of melodrama, rona-dhona, tragedy and sad songs. Why? Well, Jahaan and Suhaani go their separate ways as her family is against their relationship.
Yeah, yeah, one more done-to-death angle.
However, they soon realise they can't live without each. Aww! Now that would have been sweet back in the 1980s and 1990s. In 2016, it's just common sense.
Anyway, Jahaan and Suhaani want to get back together but they can't because there are too many misunderstandings between them.
Eventually, do these lovebirds have a happy ending? Well, you really don't need to scratch your heads to answer that question. Nor do you need to watch the movie to find out.
Story wise, as I said earlier, Junooniyat is no different than most Hindi romantic movies that claim be 'different' but just aren't.
Pulkit and Yami aren't bad actors but they need to stop working with each other for a while. And no romantic movies either, please!
The Vicky Donor actress looks pretty throughout the film but, when it comes to acting, she is just about okay. So is Pulkit.
The first half of the film is still tolerable, courtesy the exotic locations but the second half is just too much to handle with all the drama and sappy sequences.
The music isn't bad. Stereo Nation's popular number Nachange saari raat has been nicely treated by Meet Bros Anjjan and lyricist Kumaar.
Romantic number Mujhko barsaat bana lo is a good hear as well.
All in all, Junooniyat is just not worth your time and money.
Rediff Rating: