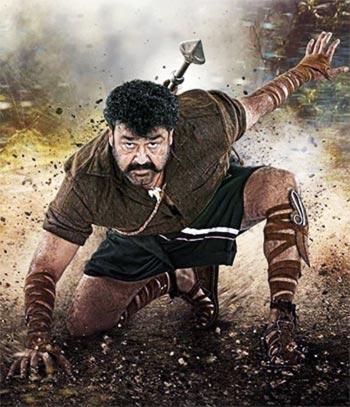 Mohanlal towers in Pulimurugan, feels Paresh C Palicha.
What would you do if you were to direct a brilliant actor and superstar?
You would let your imagination run wild, thinking about the characters he has not handled and scenarios he has not been in.
That is what director Vysakh does with Mohanlal in his new film Pulimurugan (with the tagline The Wild Hunter).
Here, the hero has the expertise of hunting down a tiger when it becomes dangerous for the humans in the vicinity.
Written by Udaykrishna (one half of the Udaykrishna-Sibi K Thomas duo, famous for their association with Dileep) and touted as the costliest Malayalam movie ever, it had to have more than just a man verses beast conflict.
So, we have illegal Ganja farming in the jungle, sandalwood smuggling and a non-Malayalee bad guy (Jagapathi Babu) being a part of all. There is even mention of poaching.
Murugan has a personal history for being the nemesis of the tiger.
The safety of his family and the betterment of people around him justifies his involvement in the unlawful activities.
But you do feel there is something amiss at the core.
On the one hand, he is shown as a naive tribal, taking everything uttered by the bad guys on face value and on the other hand, he is smart enough to dodge the police or those chasing him.
The technical finesse, including the action sequences choreographed by the internationally acclaimed Peter Hein, may be seen in Malayalam cinema for the first time but we have seen them before in other Indian languages.
Yet, it's good that Mohanlal shows the agility to be a part of such sequences.
It is Mohanlal's calibre as an actor that makes this thriller a really thrilling experience. Udaykrishna's writing and Vysakh's direction use him very well, knowing what will work with his fans. It may be the comical interludes that he does whenever actress Namitha is around or when his wife played by Kamalini Mukherjee goes into a fit of rage.
The rest of the ensemble cast supports his towering persona that is built up even before he appears on the screen.
Pulimurugan is a thrilling experience because of Mohanlal alone.
Rediff Rating: