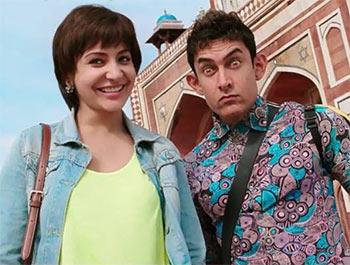 PK's music starts and ends well, but the middle portion is barely passable, says Joginder Tuteja.
The music of Rajkumar Hirani's PK has been composed by Shantanu Moitra, which Ajay-Atul and Ankit Tiwari coming in as guest composers. Swanand Kirkire is the lyricist, with guests lyricists Amitabh Verma and Manoj Muntashir.
The soundtrack begins well with Tharki Chokro, a Rajasthani folk song rendered perfectly by Swaroop Khan.
Ajay-Atul, who are well versed in classical and folk music, show off their brilliance. They maintain a good tempo right through its five-minute duration.
The fun mood continues with the next song, sung by Shreya Ghoshal. It introduces the lead character of PK by referring to Aamir Khan as Nanga Punga Dost.
It is set almost like a nursery rhyme, and is situational. It could get popular with kids due to its picturisation but as a stand-alone number, it is just about average.
Shreya has Shaan's company in the boring Chaar Kadam. The start sounds dated. It also has a nursery rhyme feel to it, but it's not memorable even after listening to it several times.
Shreya scores a hat-trick with Love Is A Waste Of Time, with Sonu Nigam. A song about the pros and cons of love, it's in the same mood as Nanga Punga Dost and Chaar Kadam.
There are attempts to pep it up with the lyrics (by Amitabh Verma). However, its popularity will depend entirely on the overall run of the film in theatres.
Sonu Nigam goes solo in Bhagwan Hai Kahan Re Tu, which is reminiscent of Jaane Nahin Denge Tujhe from 3 Idiots. This one is about the protagonist wondering if there indeed is a God who can solve problems if one surrenders oneself unconditionally. It might enhance the dramatic appeal of the film but as a standalone number it just passes muster.
Instrumental PK Dance (the theme song) is short and peppy.
But the real high for PK is the concluding number, Dil Darbadar, composed by Ankit Tiwari. The song is well composed and sung by him with lyrics by Manoj Muntashir. It lingers in one's mind after just one hearing. It doesn't sound like a song originally composed for PK; it is on a different dimension.
An excellent number that deserves repeated hearings.
PK starts and ends well, but the middle portion is just passable.
Rediff Rating: