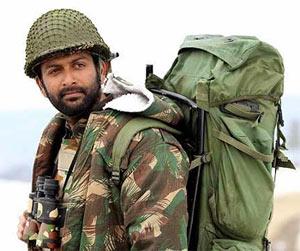 Picket 43 is the best film in Major Ravi's oeuvre and deserves to be seen despite its shortcomings, says Paresh C Palicha
Picket 43 begins with Havildar Harindran (Prithviraj) posted in hostile terrain after the death of three colleagues who were posted there.
His long pending application for leave to attend to his ailing mother has been cancelled. His childhood sweetheart will be married off to a rich guy if he does not reach his hometown and elope with her. But his commanding officer (played by Renji Panicker) will not allow him to go.
Harindran is not the typical chest-thumping, brave soldier usually seen in films. He is meek and reluctant to even view the coffin of a fellow soldier while offering him the final salute.
The film, directed by Major Ravi, is about the friendship between the Indian soldier and his Pakistani counterpart guarding Picket 43 across the Line of Control.
Initially, it looks like we will, for once, hear a humane story about war. But as the film proceeds it is back to the old jingoism.
We get to see Harindran's back story and also that of the Pakistani soldier Mushraff (Javed Jaffrey). We get glimpses of a rural Pakistan that is backward and ruled by the Taliban. A Malala kind of episode happens, with Mushraff's daughter being denied admission to a school because of the fear of the Taliban.
The director tries to be politically correct by making Mushraff mouth dialogues to the effect that the average Pakistani is different from the jihadis and they also suffer because of the actions of the terror-mongers.
Mushraff's 17-year-old brother joined the terrorists and was killed when trying to infiltrate into India. His mother had not shed a tear for him and refused to see his dead body saying that he deserved such an end because of his actions.
In time, though, Harindran transforms into a typical film hero, taking on all the infiltrators single-handed. Prithviraj is the focus of the camera most of the time, together with a dog named Baccardi.
Scriptwriter-director Renji Panikar has a prominent role as Harindran's commanding officer and does a good job of it.
Picket 43 is the best film in Major Ravi's oeuvre and deserves to be seen despite its shortcomings.
Rediff Rating: