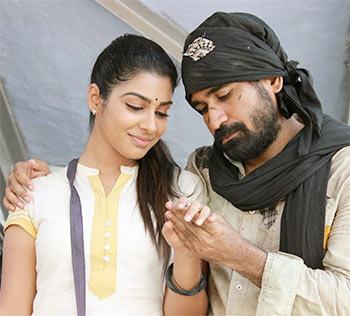 Pichaikkaran may have overdosed on action and sentiment but the film is definitely worth your time, says S Saraswathi.
From music composer to actor to producer, the transition has been immensely successful for Vijay Antony. He has had three back-to-back hits, and returns with yet another commercial entertainer with a message that sees him acting, producing and composing the music.
Directed by Sasi of Poo fame, the film is titled Pichaikkaran, which means 'beggar'. As the title promises, the film gives us an insight into the indignities of a life spent begging for a few coins to fill an empty stomach.
Physical deformities, mental illness or just fate, whatever the reason for this curse, society has no sympathy. Though heart wrenching, the film does not dwell on their suffering alone, there is also romance, comedy, sentiments and plenty of action to keep the film from being dreary and depressing.
Arul (Vijay Antony) is the sole inheritor of a multi-crore business empire. He has no father and it is his mother, who has painstakingly built this empire.
A freak accident lands his mother in a coma. After months of treatment, Arul loses all hope. His mother's condition deteriorates by the day and all the money in the world cannot save her.
Now enters a Swamiji, who promises a blessing if Arul can forsake his name, wealth and securities and beg for a living for 48 days in return for his mother's life.
With no other hope, Arul is forced to become a beggar.
The initial awkwardness of this young billionaire as he struggles to give up his pride and learn to survive on the road with no home or food has been beautifully portrayed.
Soon, the bad guys begin to pile up and Arul has to shift to hero mode, while still continuing to beg. We have a mental healthcare facility conducting illegal clinical trials on hapless patients, and a money grubbing uncle out to cheat him off his inheritance.
There is also the romance between Arul and Magizhini (Satna Titus), who runs a pizza parlour. She has a decent role and gives a good performance.
Vijay Antony appears wooden at times, but for most part gives a convincing performance. His background score and songs create the right pathos, keeping the viewers hooked.
There are some enjoyable lighter moments, but the mother sentiment has been exploited to the hilt, bordering on melodrama, but it seems to have worked for the film.
Sasi's Pichaikkaran may have overdosed on action and sentiment but the director manages to portray life from the other side. The humiliation and pain of people we meet and choose to ignore on a daily basis stays with you.
The film is definitely worth your time.
Rediff Rating: