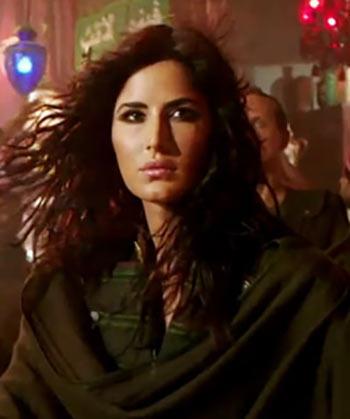 Phantom surprises us with a very hatke soundtrack, writes Aelina Kapoor.
Composer Pritam and lyricists Amitabh Bhattacharya and Kausir Munir deliver a mix of Afghani folk, Sufi theme and a Bollywood melody in the Phantom soundtrack. And the outcome is pretty good.
What catches your attention right at the start is the fact that Pritam ropes in new singers for most of the songs. In Afghan Jalebi, he brings in as many as four singers and each of them makes sure that he owns the version he sings.
The first to arrive on scene is Asrar (Syed Asrar Shah) with an unforgettable voice.
The title may sound cheesy but it's anything but. The Afghan folk flavour is prominent right through the duration of the song. The beats, the arrangements, the lyrics, the styling, the pace -- everything is unique in this number.
It gets even better when Akhtar Channal, Nakash Aziz and Akhtar Channal come up with their 'film', 'fitna farebi' and 'dumbek' versions. Very impressive!
Saware is another impressive song, which contrasts with Afghan Jalebi.
From the rich folksy sound of Afghanistan, you move on to conventional affair, as Arijit Singh gets behind the mike. But this one isn't the kind that will become an instant chartbuster; you may not even give it multiple hearings. This one is for a relaxed outing.
The same goes for Kausir Munir-written Nachda for which Pritam brings Shahid Mallya on board. The song grows on you.
Since Phantom is being projected as a song-less affair, one wonders about the lifetime of Nachda. Though it is yet another melodic outing, one suspects that the makers would continue to hard-press the pedal on Afghan Jalebi, as a result of which Nachda may get relegated to the background.
Rediff Rating: