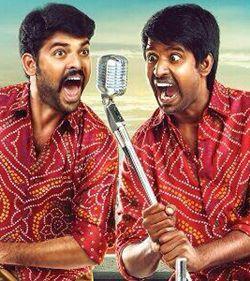 Oru Oorla Rendu Raja is a tedious comedy drama that attempts to highlight the inhumane working conditions of factory workers in our country, says S. Saraswathi.
Director R. Kannan, a former associate of Mani Ratnam, is known for his films like Jayamkondaan and Kanden Kadhalai (remake of Jab We Met).
In 2013, he attempted the remake of the super hit Delhi Belly with a disastrous Settai.
He is now back with an original script that is just as tedious.
Titled Oru Oorla Rendu Raja, the film features Vemal, Soori and Priya Anand in the lead.
The director has chosen to tackle the issue of the inhumane working conditions of factory workers in our country and the unnecessary loss of life due simple negligence and lack of empathy.
Set in the backdrop of a steel factory, the film highlights the total disregard of safety norms and the hazardous work environment in our factories today.
The film opens on a train journey between Tuticorin and Chennai. Two good-for-nothing friends, Azagu (Vemal) and Mike (Soori) are escaping to Chennai after Soori's plan to elope with his girlfriend fails. Also on the train is the lovely Priya (Priya Anand), a medical college student in her internship year.
There is an emergency on the train, a woman in labor. Priya efficiently handles the situation, the child is safely born and Azagu promptly falls in love with her.
A few songs and several totally boring comedy scenes later, we come to the crux of the matter.
A man wielding a knife attacks Priya. Azagu saves her and the narrative moves to a flashback mode. Priya is travelling to Chennai to attend the hearing of a case filed against Steel Factory owners, Nasser and his wife Anupama Kumar.
The workers of this factory are forced to work without the appropriate safety equipments using decades-old machines causing deafness, infertility issues, heart-related problems and cancer. A determined Priya has moved the court and hence the attempt to murder her.
Post interval, the film is all about whether Azagu and Mike can safely deliver Priya in court.
The film does have an interesting plot, but the director's weakly-sketched characters fail to make any impact despite the gravity of the situation. The performances of all the lead actors leave much to be desired.
Both Vemal and Priya Anand seem totally bored barely cracking any emotion.
On the other hand, Soori and Thambi Ramaiah appear overenthusiastic. Most of the comedy is completely lame, lots of annoying drinking jokes and innumerable songs, placed at an interval of every 15 minutes.
Music by D. Imman does nothing for the film. The songs are, however, well-picturized and cinematographer P. G. Muthiah does deserve some credit. Even at just 2 hours and 11 minutes, the film seems incredibly long and disappointing.
The hackneyed climax, lackluster performances, tiresome comedy, unexciting music coupled with the director's inept execution makes Oru Oorla Rendu Raja a total waste of time.
Rediff Rating: