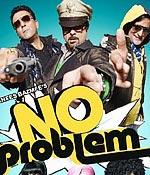 Raja Sen reviews No Problem. Post YOUR reviews here!

You know there is something fundamentally wrong with a film where Ranjeet -- yes, Ranjeet, the legendary rapist of the silver screen, the unquestioned icon of ravaging, pillaging and (izzat) looting -- is hidden behind facial shrubbery, given barely three lines of dialogue, and made to play a villainous henchman to, um, Suniel Shetty. Now that's just not on, Anees Bazmee.

It is fast becoming the norm, thanks largely to Rohit Shetty and Co, for our 'comedies' -- a most misleading and insulting label -- to forsake plot, story and logic and instead throw a bunch of oddballs at the screen, fervently hoping something -- anything --  brings about a laugh.

Apparently the funny bone is now found via the very tackiest of high-concept ideas (a cop with bullets inside his stomach tickling him uncontrollably, an actress inexplicably convinced she can use English words) and peculiar make-up, this film featuring both blackface and drag. God save us all.

Despite a lack of script, No Problem has a significant cast -- yet not one of them is genuinely funny except, very occasionally, Sanjay Dutt, whose lackadaisical approach is bonafide. He isn't even trying, which is refreshing in a film hellbent on tickling you, even if all it gives you is a painful poke in the ribs.

In case you're interested, none of them look good either, except Sushmita Sen who, after hamming embarrassingly through the whole film, is suddenly absolutely superheroine-ravishing in the climactic song, one that has to do, the lyrics say, with wide "chest-chests." Um, okay.
The only good act comes from the dependable Vijay Raaz, here playing a suicidal, nihilistic nutjob. We feel his pain. If this film was on life-support, there'd be a stampede in the race to pull the plug.
No Problem is devoid of taste, flavour and jokes. As producer Anil Kapoor ignominously submits his pride to a flatulent ape, all this film shows us is how far you need to go to make a buck in this town.
Rediff Rating: