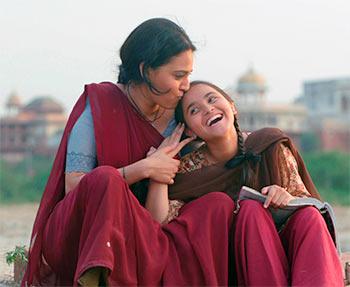 Nil Battey Sannata is a fitting tribute to mothers and their unconditional love, feels Namrata Thakker.
Directed by Ashwiny Iyer Tiwari, Nil Battey Sannata stars Swara Bhaskar and has been produced by Aanand L Rai.
Well, when a filmmaker like him backs a project, chances are you will not be disappointed walking out of the theatre. And that's exactly what happened after I watched Nil Battey Sannata.
The makers may not have gone all out to promote this film but when you have a good story, it is bound to attract moviegoers. Word-of-mouth is the best publicity for such films which are high on content.
Nil Battey Sannata is about Chanda (Swara), a single mother who works as a maid just so that her daughter Apeksha (Riya Shukla) can study.
She doesn't want Apeksha to follow her footsteps.
While Chanda envisions a bright future for her daughter, Apeksha, on the other hand, is a fun loving, carefree girl with no ambition. And that is her mother's biggest worry.
To make sure that Apeksha clears her Std 10 exams, Chanda decides to join the same school as her daughter on her employer's (played by Ratna Pathak Shah) insistence.
Though the mother-daughter duo are very close, things heat up between the two when the former starts attending the school.
At school, the only thing common between them is that both suck at Mathematics. But Chanda soon gets the hang of the subject and starts excelling. That's when Chanda challenges her daughter. She promises to leave the school if Apeksha manages to score more than her in Maths.
Apeksha, for the first time, starts focusing on her studies. She beats her mother in the subject but Chanda continues to attend school.
Watch the film to know why, and trust me, it's totally WORTH IT!
Swara Bhaskar is a visual treat in this film, as is Riya Shukla. The mother-daughter relationship has been shown beautifully through an entertaining yet emotional narrative.
Ratna Pathak Shah is fabulous in her small yet effective role.
Pankaj Tripathi plays the school principal as well as the Mathematics teacher. The talented actor brings in humour and is effortless in his acting.
In fact, all the characters in the film have been defined well and lend good support to the story.
While the first half is breezy and to the point, the second half seems a bit long. Certain scenes could have been done away with but the story and amazing performances make up for that.
There is hardly a dull moment in the film.
Overall, Nil Battey Sannata throws light not only the endearing mother-daughter relationship but also subtly explores issues like poverty and education.
Last year, we had Dum Laga Ke Haisha, a feelgood film which left a lasting impression on everyone.
For me, this year it is Nil Battey Sannata.
Watch this film with your mother. The film is truly a fitting tribute to mothers and their unconditional, selfless love.
Rediff Rating: