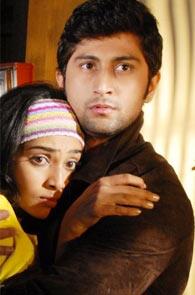 Why is a horror film on vampires so bloodless and awful, asks Raja Sen.
T
here is much to applaud about the pioneering, demoneering Ramsay Brothers, a set of sibling schlock merchants who gave Hindi cinema thief first zombies and monsters and black cats who drove Premier Padminis.
Their gloriously tacky productions were derivative, bloody, often stupid but also -- it can't at all be denied -- cinema that influenced Indian nightmares across half a century.
They were our very own cheap Dario Argento knockoffs, our own Ed Woods drunk on unlikely fame and the power afforded by monopoly. And hideous as their films were, they had bursts of manic originality and gallons of unfathomable absurdity.
Lunacy flowed as liberally as the ketchup-coloured blood, more so because their films weren't above that old (and ultimately crippling) Hindi film buffet philosophy which sought to provide something for everyone.
As a result -- and this I say without exaggeration -- the Ramsay classics hold up better today than most other hits from the 1970s and 1980s.
That said, they didn't have to go far to plummet.
Or so you might imagine.
Neighbours,
directed by Shyam Ramsay in a bid to bring back that infamous surname, is awful.
Not awful in, say, that drinking-game way that something like that horror film starring Mimoh was, but just awful in the most uninteresting way.
That this film -- about a girl who suddenly realises her neighbours are vampires -- would be artless was a given, but did it have to be so damned bloodless?
It's not worth reviewing, I concede, throwing up hands and admitting defeat.
Suffice it to say that in a bid for modernity, Ramsay strikes into even deeper mediocrity.
It's as if Anu Malik tried to sound like Honey Singh.
Rediff Rating: