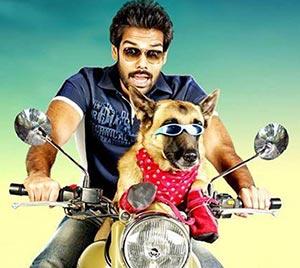 Naaigal Jaakirathai is a decent entertainer that portrays the heartwarming bond between a police officer and his adorable dog, says S Saraswathi.
Actor Sibiraj is back with a comedy thriller, Naaigal Jaakirathai, fter a gap of four years.

Produced by his father Sathyraj under the banner of Nathambal Film Factory, the highlight of Naaigal Jaakirathai is the antics of a Belgian Shepherd dog called Idoh.
Idoh has been given priority over Sibiraj in the opening credits and quite rightly so, since the pooch plays a significant role, appearing in almost every frame.
Sibi seems perfectly happy playing second fiddle.
Subramani (Idoh) is a highly trained military dog, whose owner, an army officer, was shot dead. The dog is returned to the officer's father in Coimbatore. The father is a neighbour of a police officer, Karthik (Sibiraj).
Karthik is recuperating from a gunshot wound to his leg -- the result of a shootout with ruthless kidnappers.
Circumstances force Karthik to take on the responsibility of Subramani after the death of his neighbour. He is extremely reluctant to do so initially, but soon begins to adore the dog.
While Subramani is trying to fill the void left by his master, Karthik is trying to cope with the loss of his good friend who was killed in the shootout. The two become inseparable.
Anbu (Balaji Venugopal), the mastermind behind the kidnapping ring returns to abduct Karthik's wife Renu (Arundhati). Subramani and Karthik must find Renu before she is killed.
The plot is simple and the director has chosen to stick to the basics. The narrative lacks the nail-biting tension essential to a good thriller.
But that is not to say that the film is not enjoyable.
A good portion of the film is dedicated to highlighting the bond between Sibi and his canine companion, and their clowning around seems natural and puts a smile on your face.
Despite his wooden expression, Sibiraj comes through. The role seems tailor-made for him. He has quite successfully imitated his legendary father.
However, the film is the dog's show all the way.
His pranks are adorable and so are his expressions, which are perfectly captured by cinematographer Nizar.
Editor Praveen has not only cleverly maintained the pace of the film, but wrapped it up in just an hour and 54 minutes.
Idoh does everything expected from the regular filmy hero. He chases bad guys, is funny, romantic and good in the action scenes.
There is no doubt that Idoh is a great entertainer, but a more realistic and intelligent approach by the director could have taken the film to a different level.
Whatever its faults, director Shakti Soundar Rajan's Naaigal Jaakirathai is a decent fun-filled entertainer.
Rediff Ratings: