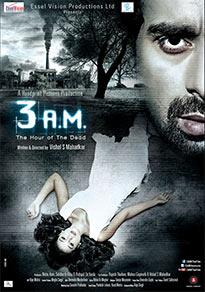 Give this one a listen, insists Joginder Tuteja.
Composers Pranay Rijia and Mannan come together to score the music for the horror flick 3 AM. They have also written the lyrics, along with Turaz and Kumaar.
Mustafa Zahid, Rajat and Wajhi (Raeth Band) lend their vocals.
Pranay Rijia begins with Teri Adaaon Mein which takes a listener straight into the Mukesh Bhatt/Mahesh Bhatt/Vikram Bhatt zone. Mustafa Zahid sings it well, and adds to the romantic flavour of the album.
The Vishesh Films inspiration is obvious since the film's director is Vishal Mahadkar, who had directed Blood Money for the banner.
Raeth Ki Tarah follows, composed and written by Manan. A poetic track, it carries forward the same mood. It has a subtle sound that catches one's attention.
The easy flow of Raeth Ki Tarah is enhanced by the way new singer Rajat (RD) sings it. A pleasant surprise, it makes one look forward to the rest of the soundtrack.
Raeth Ki Tarah team returns with Meherbaan. It begins with guitar sounds that sets the pace before the hook sets in. It is clear from this number that Vishal Mahadkar wanted to emulate the music of Blood Money.
Pranay Rijia returns with Sab Bhulake, which has lyrics by Turaaz, and Wajhi (Raeth Band) behind the mike.
The song starts off on a rather slow note and reaches a crescendo that conveys the sense of intrigue, passion and desire.
Tera Shukriya is the last song, sung by Pranay and Wajhi (Raeth Band), with lyrics by Kumaar. The sound of the santoor lends the song a classy touch.
The highlight is Wajhi's vocals. The lyrics, composing and vocals style are the kind that made Emraan's songs such a rage in films like Awarapan and Jannat.
The music of 3 AM is very good, and is the big surprise of the season.
Give this one a listen.
Rediff Rating: