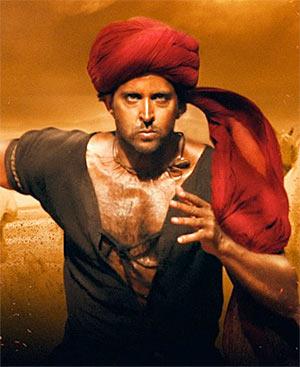 Stay away from these cinematic ruins, warns Raja Sen.
Early in Ashutosh Gowariker's Mohenjo Daro, a dumbstruck Hrithik Roshan walks around marvelling at the large titular city.
'Yeh sab kaise banaya?' he asks, wide-eyed and speaking like a slow six-year-old, wondering how they built it all.
It is a question we, the audience, would do well to echo, because it is hard to fathom what on earth led to this film being made.
Within the first couple of minutes, which involve Roshan and a crocodile, it is clear that this is a children's film, with cardboard characters -- bearing, for some reason, Mandrake Comics names like Lothar and Hojo -- and an oversimplified, overfamiliar plotline.
Roshan, gaping as he sees horses for the first time, isn't bad as a stupefied man-child coming to grips with things. Yet even this, this patronisingly written (and depressingly unoriginal) children's film, could have been rescued had Gowariker sufficiently delivered that one thing the posters and trailers promised: scale.
Instead, what we have is a lot of sand, peculiar costumes and some dismal computer graphics, particularly in the damp climax.
Gowariker self-referentially doffs his own hat to himself, tossing in motifs from earlier, better films like dervishes (Jodha Akbar), taxes (Lagaan) and a dam (Swades), even if these don't all fit into the narrative and serve only to remind us how relatively ineffective the new film is.
The plot -- about an orphan coming to claim a city (and a girl) from tyrannical oppressors -- is painfully hackneyed, and as it drags on, Roshan soon loses all charm and, like vintage bellbottoms, his nostrils flare up and stay that way.
Roshan is called Sarman, an unfortunate choice of name for a character who is to lead people in revolution, because when they rousingly and cheerleadingly call out his name it sounds like they want some preaching.
Sarman has eyes for Chaani, the high priest's feather-wearing daughter. Played by Pooja Hegde, Chaani is an insipid heroine, one who wears the exact same caught-in-the-headlights expression when a) a horse bears down on her, b) when Hrithik moves in to kiss her, and c) when she's being choked.
The choking hands belong to Arunoday Singh, the entitled son of the chieftain.
Now, while we might have glimpsed (and snickered at) chieftain Kabir Bedi's ridiculously viking horned helmets thanks to the trailers, it is Singh who gets an even rawer deal as he scowls around wearing immensely weird and wooly top hats of varying textures -- I kid you not, he's an oafish Jamiroquai.
Bedi is fine as the top baddie, and given long hair in a flashback sequence, he looks amusingly enough like a disgruntled ghazal singer, which is at least funny.
The film doesn't have much to offer.
Historical accuracy be darned, Gowariker has served up a severely amateurish production with a weak script and an abundance of cliche.
There is an attempt to show some of that world -- a counsel between trade representatives is interesting -- but for the most part this is a silly film where any two people do not bother lowering their voices in order to conspire against a third person in the room. It is as if everyone wears invisible cones of silence.
(While on silence, I must concede that I've already forgotten the songs from AR Rahman's soundtrack. It is Rahman, certainly, and perhaps three years later, once they've dug themselves deep under my skin, I'll love these songs, but today, on the day of release, Mr Mohenjo ain't Risin.)
Roshan, while hamming it up, is however earnest, and deserves some consolatory pats on the back for keeping a straight -- if passionately contorted -- face through these nutty proceedings. After all, it isn't easy to play a man on a vision quest hunting for a goddamned unicorn.
Yes, a unicorn.
No, you didn't read that wrong.
Unless you too are hallucinating, I suggest you stay away from these cinematic ruins.
Rediff Rating: