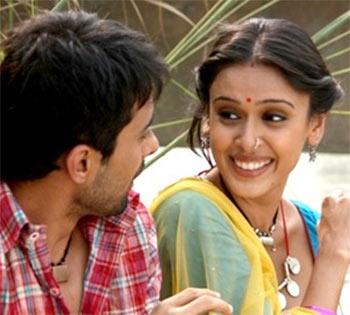 Miss Tanakpur Haazir Ho takes off with a great premise but fails to realise its full potential, says Nishi Tiwari.
Journalist-turned-filmmaker Vinod Kapri's debut feature Miss Tankapur Haazir Ho is a social satire replete with many amusing elements.
The story of a young man accused of raping a buffalo and consequently being forced to marry it by the village panchayat is based on true events and that suitably piqued Kapri's interest.

Set in a village called Tanakpur in Uttarakhand, the film follows the village's general handyman Arjun (Rahul Bagga), who is having an affair with Tanakpur's pradhan Suaalal Gandaas's (Annu Kapoor) young and free-spirited wife Maya (Hrishitaa Bhatt).
To say that Arjun is remarkably unremarkable for a protagonist would be a serious understatement.
So is Hrishitaa's Maya, gorgeous in colourful lehengas featuring mirror work but played with slightly misguided enthusiasm and understanding of the character.
The duo's clandestine meetings are surprisingly poorly planned, considering the fact that Maya is married to the village's most powerful man, which is probably why it doesn't take long for suspicious Suaalal to catch the two red-handed.
But hell really breaks loose when pradhan and his lackeys Bheema (Ravi Kishan) and Shastri (Sanjay Mishra), with the help of corrupt cop Matang (a henna-haired Om Puri) decide to accuse Arjun of raping their buffalo to save face.
Everything pretty much goes downhill from here on.

Certain rural quirks are played up to consciously highlight attention to detail -- spiffy grafitti like 'Kripya ghanti ek baar hi bajayen, kholne wala chal ke aayega, ud ke nahi,' on a front door, the commonplaces trappings of a village fair (save the stall selling bras: take it from someone who's spent her impressionable years in an actual village, that never happens at a fair).
Anchored by toilet humour (occasionally backfires), a few actually funny one-liners delivered with familiar ease by some of the cast members (mostly Ravi Kishan who is pretty much spot on as the surly simpleton man Friday to Gandaas), Miss Tanakpur Haazir Ho comes across as a strained attempt at replicating Jolly LLB-esque storytelling.
While Rahul Bagga as the grossly wronged Arjun is uniformly dazed and forgettable (which kind of makes it really hard to outrage on his behalf), Annu Kapoor, who was outstanding as a Punjabi fertility doctor with a thick accent in Vicky Donor, can't seem to get a grip on Haryanvi in this one.
He's annoyingly hammy and stiff as the feudal lord, while Om Puri's Matang, saddled with dialogues and a story arc that don't really culminate into anything substantial, plays his bumbling policeman seemingly half-heartedly.

Sanjay Mishra brings some comedic heft to the film's handful of funny moments.

Like many of its peers, Miss Tanakpur takes off with a great premise but fails to realise its full potential.
Rediff Rating: