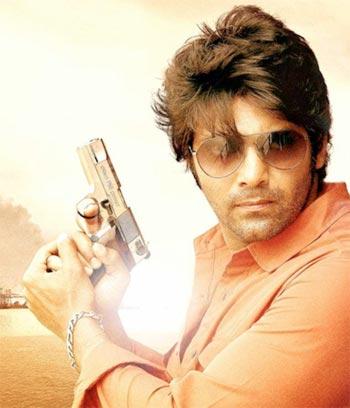 Director Magizh Thirumeni's Meaghamann is an intense thriller that sheds light on the deadly war between powerful drug cartels and the police, says S Saraswathi.
Magizh Thirumeni of Thadaiyara Thaakka fame is back with yet another exciting action thriller titled Meaghamann.
Arya plays the lead role. In significant roles are a host of actors from the Hindi film industry - Sudhanshu Pandey, Ashutosh Rana and Ashish Vidyarthi.
The glamorous Hansika who was paired opposite Arya in Settai (the remake of the Hindi blockbuster Delhi Belly) plays the female lead.
The music is by S S Thaman. The film is produced by Hitesh Jhabak.
Meaghamann revolves around a powerful drug lord, Jothi (Ashutosh Rana), who has the state of Goa under his control. He has a hand in all the major drug deals in Goa and Mumbai, but his identity remains a mystery. The police department has little success trying to trace him.
When the film opens, there are already two undercover agents working to find his identity. After four hard years, the two have finally managed to infiltrate the gang.
While Siva (Arya) has gained the confidence of Jothi's right-hand man, Chitti (Mahadevan), his friend and colleague Karthik has infiltrated a drug cartel in Gujarat headed by Sharma (Ashish Vidyarthi).
A major drug deal is about to go through between the two gangs and Siva is close to discovering the identity of the elusive Jothi. But things begin to unravel as there are ego issues and internal politics within the police department. Also an intelligence agent on Jothi's payroll, warns him.
Karthik is captured, tortured and killed. Siva too is trapped. Post-interval, the film is all about how Siva uses his intelligence and brute strength to complete the mission.
Arya has shed his lover boy image. There is a menacing edge to his performance with none of the laidback charm that he is so popular for.
Hansika plays a college student and Siva's neighbour. Though she is desperately trying to seek his attention, Siva remains aloof and indifferent. As a temperamental college student, her antics draw much laughter and provide a welcome break from all the intense drama unfolding on screen.
The film is crammed with a whole load of well-etched villains, but Ashutosh Rana and Harish Uthaman stand out.
There are no exciting songs in the film, but Thaman delivers big time on the BGM. The only negative is the length of the film - at two hours and 20 minutes, it's too long for a thriller.
With a power-packed screenplay, with enough twists and turns to make your head spin, Magizh Thirumeni's Meaghamann is high on suspense and drama.
That coupled with deft direction and good all round performance, makes the film worth watching.
Rediff Rating: