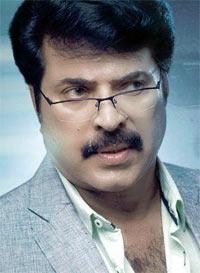 Paresh C Palicha says Silence is the first attempt at serious film making from the writer-director team of Y V Rajesh and V K Prakash and have made a decent attempt.

Watching Mammootty play a legal eagle is always interesting. May be because he is a qualified lawyer in real life too. Director V K Prakash seems to know this fact well and uses it to his advantage in his new film Silence.

Written by Y V Rajesh, this legal thriller has taken its inspiration from a couple of Hollywood films to make a highly watchable film.

Arvind Chandrasekhar (Mammootty) is a very successful lawyer, who is appointed judge in the Bengaluru High Court. He is the youngest person to achieve this distinction. Before taking the oath, he visits his parents in Kerala. There he is harassed by an anonymous caller, who says he is not fit to be a judge. At first he thinks it's a prank played by some friend or a rival.

But things get serious when his wife and children face dangerous situations supposedly created by the same caller. So he tries to dig into his past to see if he has made any mistakes or unintentionally hurt anyone.


He uncovers the mystery in the beginning of the second half and sets out to correct his past mistake before assuming charge as a judge.
The first half moves at break neck speed. But the momentum is lost in the second half as Arvind goes on a fact-finding mission to find his mistake and correct it.
The film borrows heavily from the Richard Gere starrer,
Primal Fear
(1996).
Among the legion of supporting actors is Anoop Menon who plays a high-ranking police officer and a batch mate of Aravind's in law college. He had a crush on Sangeetha (Pallavi Purohit) who later married Aravind.
Jayaprakash Kuloor is a Malayali priest and Joy Mathew plays Markos who wanted the judgeship that went to Aravind.
Mammootty gives a controlled performance as Aravind. His greying sideburns and moustache somehow add to his vulnerability.
Silence
is the first attempt at serious film making from the writer-director team of Y V Rajesh and V K Prakash after low-brow comedies such as
Gulumaa
l and
Threekings.
It is notches above the previous attempts and highly watchable.
Rediff Rating: