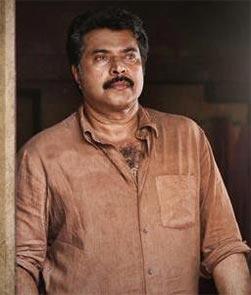 Munnariyippu is one of the most intriguing films made in recent times, says Paresh C Palicha.
Munnariyippu, means 'caution' or 'warning', but the warning is not about some shocking or nerve jangling event or occurrence. Cameraman-director Venu has a different agenda in this film that stars Mammootty in the lead.
Anjali Arakkal (Aparna Gopinath), a freelance journalist, earns her living by ghost writing autobiographies of the rich and famous. Her latest client is the jail superintendent Krishnamoorthy (Nedumudi Venu) who is to retire from service shortly
When she goes to meet him in the jail, she meets Raghavan (Mammootty), a prisoner accused of a twin murder. He has served his sentence but continues to stay in the jail as he has nowhere to go.
Anjali interviews him as part of the research for Krishnamoorthy's book. She finds that he is an interesting person and has jotted down his thoughts in a diary. She uses this material to write an article on him for a leading English magazine.
The article wins her a book deal from a publisher in Mumbai to translate Raghavan's autobiographical writings.
Anjali gets Raghavan released and finds him a place to stay. She provides him with pen and paper, telling him to write whatever he feels like. But days go by and the paper remains blank. Anjali gets increasingly angry, annoyed and agitated as time goes by.
The equation of their relationship does not change much as they come to know each other better. Anjali had found Raghavan an interesting subject to write about. Raghavan does not open up to her any more than one would to a casual acquaintance, even though he entrusts her with his life's earnings.
The screenplay and dialogues by Unni R give us clues to where we are heading, but much still remains a mystery.
Renji Panicker and Joy Mathew play senior journalists who guide Anjali, who can be quite ambitious and ruthless. They say things that mentors are supposed to say. They underline the changes taking place in the profession.
Prithviraj appears in a cameo as the prospective groom for Anjali.
The star cast is in top form with every character etched perfectly so that every character is memorable no matter how fleeting an appearance he/she makes.
Munnariyippu is one of the most intriguing films made in recent times.
Rediff Rating: