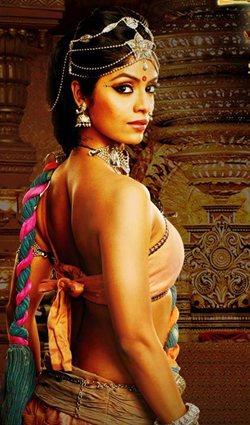 If Mahabharat maintains the quality of writing and cast, we may have another winner among us, feels Nishi Tiwari.

BR Chopra's Mahabharat, which ran from 1988 to 1990, went on to become a significant phase in the history of Indian television (still in its nascent stage back then) and, by extension, of Indian pop culture.

It was a time when streets wore a deserted look on Sunday mornings as families, and entire communities in villages, huddled around TV sets to pay obeisance to their gods on screen.

Oddly enough though, the show didn't spawn any remakes despite its mythical stature until Ekta Kapoor, in a misguided move, created her own version of the show in 2008.

The terribly miscast and ill-fated Kahaani Hamaaray Mahaabhaarat Ki -- an opulent televised retelling of the epic that was populated with overly familiar faces from her saas-bahu serials and ridiculous clothes.

While the show was canceled sooner than the makers could anticipate -- it was originally intended to run for upwards of three years -- a new version of the epic debuted on Star Plus last night.

Set for the 8.30 pm slot Monday through Friday, the show has been touted as India's most expensive TV series.

Owing to the insufferable mess that Ekta's version turned out to be, I plonk on my couch expecting the worst from this one.

The story starts from the beginning with an introduction to Hastinapur king Shantanu and his soon-to-be wife Satyawati.

The couple is on a boat in the river on the banks of which Satyawati lives with her father -- the fisherman king -- and his subjects.

The hour-long first episode focuses on the story of how Shantanu is reunited with his eldest son Devvrat, who takes a lifelong vow of celibacy and renounces the throne for Satyawati's future kids, thereby changing the course of Hastinapur's future.

For a show that is the third retelling of its kind and faces relentless comparisons with Chopra's widely regarded magnum opus, this Mahabharat comes armed with reasonably good CGI (whatever little was presented in the first episode) and fairly crisp writing that keeps things moving at a brisk pace.
While it's a little difficult to look at Sameer Dharmadhikari as Shantanu (blame overexposure through a series of TV commercials), Sayantani Ghosh makes Satyawati stand out with her performance.
Model-turned-actor Arav Chowdhary's Devvrat, who will be renamed Bheeshma by Shantanu in the next episode, is stiff at first. Also, he seems a little too old to play a 20-something. But then, when has that ever been a concern for Indian TV shows makers?
Lord Krishna (played by Saurabh Jain, who has played Lord Vishnu on Devon Ke Dev Mahadev) makes a brief appearance in the first episode.
His prior acting cred notwithstanding, he looks ill-equipped when it comes to topping Nitish Bharadwaj's dynamic screen presence as Krishna in Chopra's Mahabharat.
Unlike its predecessor, the new Mahabharat gets the details -- lexicon, background score, and the sets -- right too.
Mahabharat -- with its flawed protagonists, definitive philosophical tone and dramatic story arcs -- remains to be one of the most intriguing Indian epics.
If it maintains the quality of writing and able actors who portray key characters, we may have another winner among us.

Rediff Rating: