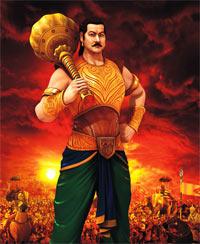 If only Mahabharat was a made-for-radio special instead of a half-heartedly animated demo reel masquerading as a children's fantasy, writes Sukanya Verma.
Simplifying serious literature or historical for easy consumption of children is long-running practice.

If Disney conveniently changed the tragic outcome of The Little Mermaid or The Jungle Book to craft an aww-inducing happy ending that would please its young audience, Indian animators condense copious chapters of Hindu mythology to render it uncomplicated for kids.

Only here, despite a vast potential in premise, lack of funding and enterprise rules out any chance of glory.

Amaan Khan's adaptation of the great epic Mahabharat, which boasts of one of the starriest cast credits of all time -- Amitabh Bachchan (Bheeshma), Shatrughan Sinha (Lord Krishna), Sunny Deol (Bheema), Anil Kapoor (Karna), Jackie Shroff (Duryodhana), Ajay Devgn (Arjuna), Anupam Kher (Shakuni), Manoj Bajpayee (Yudhisthira), Vidya Balan (Draupadi) and Deepti Naval (Kunti) scores on charisma but is let down by substandard 3D animation (by Bubble Creations) and a hasty narrative that labours to squeeze a sumptuous, compound saga in a little above two hours.

In all that awkward rush, it conveniently overlooks to provide closure to significant developments and protagonists.

You know how layout animation is like? Sort of a work-in-progress, amateurish look you get to see in behind-the-scenes/bloopers featurettes? That. Even if the characters faintly resemble the actors speaking their part, there's an eerie degree of uniformity in their blank expressions and mechanical gait.

The idea behind this superficially lavish feature is to acquaint a population of Chhota Bheem-obsessed tots about ancient India's most dynamic legend.
Yet, told in flashback to two sparring brothers by a wise bird (voiced by Rohini Hattangady), Mahabharat skips bulky volumes and key characters to get down to business without really depicting the history of rivalry between the Kauravas (Duryodhana, Dushasana) and Pandavas (Yudhisthira, Arjun, Bheema, Nakula and Sahdeva).
After their palatial residence is purposefully set on fire, the Pandavas are presumed dead by their scheming cousins.
Meanwhile, Bheem runs into Hidimba (her presence seems pointless considering they exclude Ghatothkach's contribution to the war) and Arjun wins Draupadi's hand at the Swayamwar. Most absurd is the explanation offered to convey why Draupadi has to play wife to all five brothers without its elaborate mythological background.
Following the crucial gambling scene, Draupadi's humiliation, dramatic vows and threats, a whirlwind exile trip and Duryodhan's refusal to honour his word, battle of Kurukshetra (in its most lackluster version) gets underway.
The only thing that holds your attention is the earnest dubbing job by most of its star voices. If Amitabh Bachchan's majestic baritone is tailor-made for Bheeshma Pitamaha, Ajay Devgn's subtle yet smug pitch is a perfect fit for Arjun.
Manoj Bajpayee's reserved stance and Anil Kapoor's wounded pride are adequately articulated but Vidya Balan's somewhat cold delivery projects Draupadi as severe as opposed to resilient. Jackie Shroff is impressive as the bitter Duryodhana and humanizes his self-seeking persona in ways most portrayals never did.
Shatrughan Sinha's 'Khamoshhh' characteristics are commendably suppressed to summarise Bhagavad Gita in four lines. Whereas Sunny Deol validates his hefty presence as the 'chaar sau haathiyon ka bal' bragging Bheem, Anupam Kher has a blast voicing the devious troublemaker Shakuni in what sounds a conscious tribute to Jeevan (and Paintal.)
If only this was a made-for-radio special instead of a half-heartedly animated demo reel masquerading as a children's fantasy. But dumbing down Mahabharat's provocative and serious framework for a film that cannot even provide visual enchantment fails to fulfill it purpose even to its young audience.
Rediff Rating: