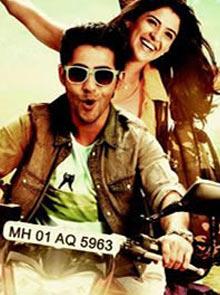 Lekar Hum Deewana Dil struggles to find its own voice, according to Nishi Tiwari.

Mainstream Bollywood of the 1990s had the quintessential yuppie-in-the-making Rahul (mostly played by Shah Rukh Khan in various films) and his new ideas of romance that seemed nothing short of revolutionary at the time.
Love is friendship, love is a journey that should culminate in marriage -- ideally after parental approval has been diligently sought and won, the works.
Two decades on, the idea of love and romance has undergone radical changes.
Subtlety is an emerging star while grand gestures are a thing of the past.
In this ever-changing dynamics on the onscreen romantic comedy scene, comes Arif Ali's directorial debut Lekar Hum Deewana Dil starring debutants Armaan Jain and Deeksha Seth.
Like many of its contemporaries, Lekar Hum Deewana Dil starts with a flourish -- there's a boisterous college-going male protagonist (Jain's Dinesh) with not a care in the world (and despised for it by his family) and his set of friends from college, among whom is Karishma Shetty (Seth), his unofficial girlfriend.
I say unofficial because the whole world around them acknowledges their relationship, except for themselves.
Which is odd because even before you can blink, the reluctant lovebirds decide to elope as Karishma's tyrannical father wants to get her married to a nice Shetty boy even before she can yell girl-power.
Coming back to the message this rom-com aims to convey about modern-day love, well, it's a bit of a garbled mess.
Karishma wants a marriage that will last a lifetime and beyond, the term 'janm-janmantar' is mentioned, if I remember correctly (she's 20, by the way).
Somewhere in the middle of their escape from parental tyranny, this Bobby-meets-Highway-meets-Chalte-Chalte loses the plot.
There's a honeymoon period in this young romance, then comes the reality check when it wears off and love conquers all eventually, as is expected of a film of this genre.
But things happen without a sense of purpose, not actively trying to arrive at a point, focussing solely, like a race horse with blinders on, on finishing the drill.
Armaan Jain's debut performance is entertaining in parts, and the credit, for the most part, goes to some unassumingly funny sequences and dialogues.
That said, his oddly well shaped eyebrows are distracting and upstage him much like Priyanka Chopra's lips overshadowed her presence in Agneepath.
Deeksha Seth deadpans for the most part, she is the new Genelia D'Souza in the making, perhaps?
If this film is entertaining at all, the credit goes entirely to the supporting cast.
Kumud Mishra, as Dinesh's perennially disgruntled bureaucrat father is hilarious. So is Rahul Dev Shetty as the quietly menacing father of Karishma.
To sum it up, Lekar Hum Deewana Dil would have done much better for itself had it tried to find its original voice, instead of pandering to a vague idea of what sells when it comes to love stories.
Because who has ever cracked the code for that?

Rediff Rating: