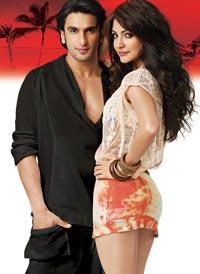 An inexplicably sluggish pace and forgettable songs thrown in every few scenes kill any possibility of a narrative rhythm in Ladies vs Ricky Bahl, writes Raja Sen.

It's always tragic to see those who defy the cookie-cutter mould try and sanitise themselves in an attempt to fit in. Ranveer Singh, who was fantastic in last year's
Band Baaja Baaraat
, here has his rough edges blunted by the generic sheen of wannabe stardom, and the result is most unfortunate.
He struts through
Ladies Vs Ricky Bahl
mostly in slow-motion, often shirtless and constantly posing for the camera, but a mere workout does not a Hrithik Roshan make.
When I applauded
Band Baaja Baaraat
and rated him 2010's
finest actor
, I was struck most by how impressively Ranveer carved his own non-traditional path, eschewing vanity and sticking to character instead of concentrating on showing off his most flattering profile. A star was born and now, as he tries to fit into the industry definition of a star, the result is an excruciatingly slow-motion film that drags on as it exposes his every weakness.
There is a plot in Maneesh Sharma's latest, but essentially imagine a long and rather unfunny
Khosla Ka Ghosla
and you'll get the gist. Ricky Bahl swindles a bunch of interesting but gullible women, and they -- in
Not A Penny More, Not A Penny Less
fashion -- scheme to get their own back, hiring a woman to con the conman. Yada yada yada, and so we have a template film you can essentially predict. It might still have worked if not for the inexplicably sluggish pace and forgettable songs thrown in every few scenes, killing any possibility of a narrative rhythm.
There's some quirky texture on display, particularly in the early sections. As Sunny Singh, a Delhi gym trainer (talking just like he did in BBB), Ranveer's amusing enough. There's a chain around his neck with a dumbbell hanging on it,  looking like a bone dangling just within reach. Next, as an exhibitor of paintings with an effete walk and an aptly annoying proclivity to say the word 'art' roundedly, with a nearly
silent 'r', he's fine as well. But soon the chameleonic routine becomes tiresome, episodic and purely superficial. There is detailing, but he isn't suave enough to make the character work -- and it's hard to care about a protagonist if he's constantly stretching credibility.
The girls, on the other hand, are mostly good. Anushka Sharma, ebullient enough to make me want to change my cellphone network by dint of a ten-seconder on TV, tries hard (and looks very fit in a gratuitous bikini shot) but, playing a salesgirl overflowing with vim who eventually turns oddly sheepish, has precious little to play with. Dipannita Sharma's efficient and very believable as a hard-nosed executive allergic to nonsense, and Aditi Sharma's pleasant enough. The only positive from this film, though, is the
Dilli ki ladki
.
Playing a Delhi character with dialogues written by Habib Faisal automatically guarantees some meat for an actor, and young Parineeti Chopra is both adorable and genuine enough to spark up some laughs, even when all she's doing is pronouncing LOL to rhyme with "doll." She's a smart-alecky girl utterly besotted with the man they hate, awestruck by how cannily he fooled her father, and the role is the film's nicest. (Clearly the thing to remember in Faisal's films is that whoever gets to say the word "kaand" walks away with the film.)
But while Faisal delivers a few good lines, he isn't to blame for Devika Bhagat's sluggish script. A very predictable con-versus-con film can be made enjoyable, but it needs to be breezy and engaging. We need to want to take sides and we need to care about the twists, and by the time
Ladies Vs Ricky Bahl
winds down in extremely simplistic fashion, we just don't care anymore. If this were a better-made film, we might have been justifiably outraged by the lame sexism meted out at the climax, but for now yawning seems reaction enough.
It's funny, really. With his first film we hoisted Ranveer Singh high above our shoulders because he scoffed at Shah Rukh Khan and very memorably told a bride how weddings didn't need superstars; now, in his second film, he has an SRK dialogue as his caller-tune, and all it forces us to notice is how far he is from the Shah Rukh standard of superstardom.
Rediff Rating: