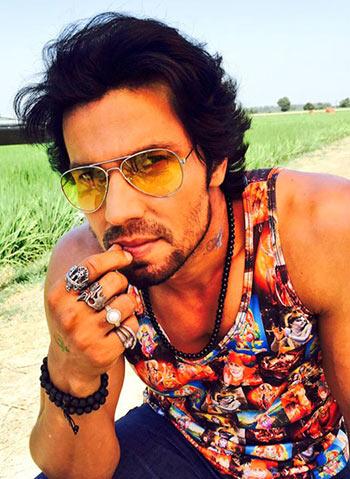 Laal Rang's music is not worth a listen, feels Aelina Kapoor.
Is different always good? No.
That's what you feel after listening to the soundtrack of Randeep Hooda's Laal Rang that falls short of being bizarre.

The manner in which composer Vipin Patwa puts together the first song, Bhaang Ragad Ke with singer Vikas Kumar shows you the direction the soundtrack will take.
Mange Ram Koch's lyrics are rustic to the core and one wonders if it is a good idea to make a Bollywood film with such heavy dose of Haryanvi.

The same goes for Kharch Karod, where Vikas doubles up as lyricist. It has such a deep Haryanvi flavour that it's tough to comprehend what it is trying to say. The makers may have had fun putting it together but in the process, they completely alienate the audience.
Composer Mathias Duplessy gives us Bawli Booch. With Dushyant Kumar as the lyricist, the result is just the same.

Ditto for Laali, which is written by Kausar Munir and sung by Sameer Khan and Mukhtiyar Ali. Honestly, you forget it soon after you have heard it first.
There appears to be an almost desperate call to bring in some 'filminess' to the affairs and hence Shiraz Uppal is brought on board to compose a 'Sufi' flavored Mera Mann. Lyricist Shakeel Sohail spins the kind of words that have been heard before and lyricists Kashif Ali and Shiraz Uppal just go through the motions.
Rediff Rating: