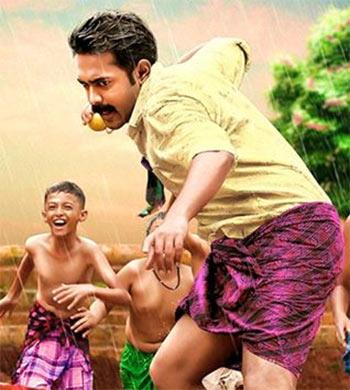 Kohinoor lacks the sparkle, feels Paresh C Palicha.
We hoped for exciting stuff when youngsters like director Vinay Govind and actor Asif Ali got together for Kohinoor but it turned out to be an exhausting watch.
The film is about a diamond heist in a small town garment store, carried out by a gang of thieves who have been assembled to accomplish this task. They don't know each other so there is every scope of misunderstanding, suspicion and treachery.
The year is 1988, the year when the Karipur (Kozhikode) airport was inaugurated, opening a faster route to smuggle goods from the Gulf into the Malabar region.
Louis (Asif Ali) is a thief who wishes to make it big as Tharadas of Athirathram or Sagar alias Jacky of Irupatham Noottandu. His friend Aandikunju (Aju Varghese) is an expert in breaking lockers. He gets an offer to be a partner in a diamond robbery because of his expertise. He asks Louis to help him.
The heist is led by Haider (Indrajith) from Mumbai, who wishes to be behind the scenes.
The other members of the team are Freddy (Vinay Forrt) and Nicholas (Chemban Vinod Jose). They discuss, argue and even think one among them will deceive.
Things get predictable by the time we reach the second half.
An attempt is made to fit in a romantic track with Louis and Daisy (Aparna Vinod), a sales girl in the shop where the robbery is to take place.
The effort to keep the proceedings interesting loses its steam after a point. Curt dialogues, botch ups in the plan, double crosses -- all become repetitive after a while. Even the mandatory twist in the climax happens three times as if the people involved in it needed to be convinced that they have got it right.
Asif Ali tries to convince us that he is having fun in his first home production, for that he even dances in one of the songs where Bhavana does a special appearance, which does not add anything to the plot.
Aju Varghese does his comic second fiddle to the hero role aptly.
Indrajith has to maintain a dour expression throughout and he does it with flair.
Anyway, after the experience, we feel that this Kohinoor lacks the sparkle.
Rediff Rating: