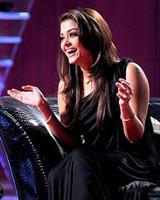 Sukanya Verma reviews Koffee With Karan season 3. Readers can also send their reviews here.

It's been four years since we last got a taste of filmmaker Karan Johar's blend of Koffee and conversations. And a great lot has happened from then to now: stars appear to have found stylists and tweeting has replaced talking, like its charismatic and communicative host rightly points out.

Ditto for the third season's decor if not format. While the coffee hamper looks tempting as ever as does the rapid fire round that leads to its gain, the colour palette is now predominantly black with a scatter of crimson and dark blue.

Although Karan's best buddy Shah Rukh Khan is engaged in the filming of Farhan Akhtar's Don 2 in the capital city of Germany, Berlin, he takes some time off to introduce the new season with his winsome words and trademark dimples.

King Khan's conspicuous absence is more than made up with the presence of the two coveted Bachchans -- Abhishek and Aishwarya Rai, appearing together for the first time on chat show for Indian television. The duo previously showed up as 'The World's Most Famous Couple' on Oprah. Fortunately, their presence here is neither too conscious nor affected.  

If only they had skipped all that black for some colour, Ash's elegant gown along with Junior B's spiffy suit simply drowns in the ebony-coloured faux leather couch (of which the Bluffmaster star says is far more comfy than the one on 'On the Couch with Koel.')

Considering the Bachchans' warm equation with K Jo, the camaraderie is easygoing and free-wheeling. He even grabs one percent credit for their romance stating it's he who really put ideas in Abhishek's head. The latter is more concerned with making sly jokes about his hate-hate relationship with director Ram Gopal Varma. Apparently at the Bachchan wedding, RGV told the actor, 'It's true. Every wedding function is like a Karan Johar movie.' The celebrity host takes the dig sportingly. Maybe he'll save his retorts for Twitter.

A recap of earlier episodes, which featured them as guest reveals a dramatic change in the status quo. Gone is the stiff, icy Ash of last season. It's a complete turnabout as she slips into a giggly, almost-candid avatar ('You think I should be telling in print how we make out?'). At times, she overdoes it too.
As for Abhishek, he's a little less high-strung but the humour is intact. They seem like a normal married couple, which is, of course, a huge compliment and accomplishment in this crazily operating industry.  

While he's specifically cordial in his grilling, he does hit some uncomfortable spots -- bumping into exes or the media-fueled tamasha about their limited wedding invitations. While Ash shoots up a sharp mix of sarcasm and nonchalance, Abhishek carefully picks his words explaining genuine reason with humility and diplomacy. Very Big B like.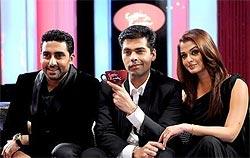 Nevertheless, they both share a common view on marriage. According to the former Miss World, you don't need to put your personal life on hold to concentrate on your profession. 'Marriage means keeping the faith. One can manage both marriage and career. You will get noticed along the way, you don't need to stay single for that.' 'The jokes are not true. Marriage is a lot of fun,' says Abhishek.

What keeps the chuckles coming is mostly Bachchan Jr's incessant ragging of the host. Be it the indecent proposal a wannabe struggler made to him revealing the subtext behind Abhishek's emphasising on the 'Will do anything for you' punch-line or the My Name is Khan

filmmaker's constant pout.

Apart from marriage and co-stars, the couple discusses their buddy-pal chemistry. 'She's the epitome of grace, she's elegant. She's a lady. And she gets treated like that. But she's a buddy. Ask anyone...Uday (Chopra), Duggu (Hrithik Roshan).'  Although you cannot help noticing a hint of jealousy when he says he prefers her on-screen chemistry with Rajnikanth and Shah Rukh Khan over Hrithik explaining how them both being such lookers distracts the viewers from their acting efforts.  

Ash preserves an attentive pose all through. Even when he discloses how he finds her a 'tad disorganised.' Ouch. Meanwhile Ash talks about her dislike for typically girlie situations and her closeness to her mom-in-law. And that the only actress she can have a conversation with is Preity Zinta. Because she is mad.

Film folk like Ranbir Kapoor, fashion designer Manish Malhotra, movie critic Rajeev Masand, UTV honcho Ronnie Screwvala, director Ashutosh Gowariker and socialite/columnist Shobhaa De dole out the merits of knowing/working with/ watching this glamorous duo. Here's a catty one from De: We've all learned to love her (Aishwarya) despite the giggle.

Finally, it's time for the much-awaited rapid fire section. The questions however aren't all that snazzy and mischievous to warrantee sensational repartees. Still, both Ash and Abhishek give it their best shot.

Samples: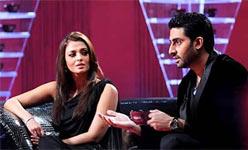 Best of Aishwarya:
Who would Ash like to be stranded with on an island? Mallika Sherawat. Because then Abhishek is sure to come 'running' (referring to his remarks made in an earlier episode of the same show) and rescue them both as a result.

Who's the better actress between Kareena Kapoor and Priyanka Chopra? Kareena is way more versatile than Priyanka. (We can't help noticing the 'way more.' War of the Miss Worlds, anyone?)

Bachchans or Khans? Bachchans for all seasons. And My Name is not Khan.

Best of Abhishek:
An actor in need of a stylist? Me. (If that's not brutally honest, what is?)

One word for these celebs. Salman Khan: Stop working out. (And then promptly goes on to explain what he means is that people cannot get past his physique and as a result fail to see his talent and possibilities.)

Aamir or Shah Rukh Khan? Who's the biggest star? Aamir has consistently proved himself. He's the biggest star. (Team Aamir wins again.)

Ranbir Kapoor or Imran Khan? If I am still around they're not gonna have a bright future.

No prizes for guessing who wins the hamper. The show wraps up with fans gushing about Aishwarya's 'obscenely hot' sexiness and Abhishek's 'husband material' appeal.

At a time when hateful reality show contestants and dragging soap operas define idiot box trends, Karan Johar's amusing chitchat with his celebrity pals, though never as spontaneous as the first season, puts on a quite a show.

Koffee With Karan, Sundays, 9 pm on Star World. Next week: Ranbir Kapoor and Imran Khan.

Rediff Rating: