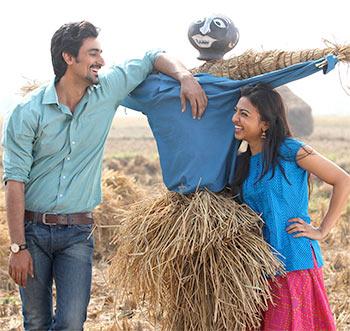 Kaun Kitne Paani Mein fails to realise its potential, says Nishi Tiwari.
Nila Madhab Panda burst on the Indian film scene with the critically acclaimed I Am Kalam in 2011.
After briefly touching upon the issue of water shortage in his follow-up film Jalpari, the fillmaker's new film -- the Kunal Kapoor and Radhika Apte starrer satire Kaun Kitne Paani Mein -- revolves around water politics in a fictional Odisha village.
The film opens with an honour killing where the king of a village (nestled in the hills) shoots his daughter and the low caste man she has fallen in love with, and banishes the man's poor family to the foothills of the village.

Thirty years on, the rich wastrels of the king's part of the village (known as Upri) and the hardworking commoners who now reside in the foothills (Bairi) lead starkly different lives.
While Upri, once fertile, is rendered barren over the years due to lack of water, Bairi has been transformed into lush agricultural land thanks to its enterprising residents -- they are well-versed in water conservation methods and manage to store all the rain water that trickles down to them from Upri every year.
Heading these warring sub-villages are Raja Braj Singh Deo (Saurabh Shukla) and Kharu Pehelwan (Gulshan Grover) respectively.
While the film mostly consists of satirical set pieces to stress just how water politics takes shape, the film's story only gains momentum with the entrance of the film's protagonists -- Deo's Raj (Kunal Kapoor) and Kharu's daughter Paro (Radhika Apte).
Which is not to say that the duo bring any more meat to the film than its writing -- and spirited performances of Shukla and Grover, all of them occasionally effective -- have offered up.
While Shukla, as the comically ignorant Raja perfectly fits the bill -- his bloated frame tells the (presumably unintentional) backstory of a royal life eroded with copious amounts of liquor -- his portrayal works as if purely by accident.
Grover, for the better part of the film, is a seething mess of a bitter man who fails to evoke any reaction except for a few laughs.
Kunal Kapoor, making his acting comeback after Luv Shuv Tey Chicken Khurana, is stiff, awkward even, as the reluctant heir to a decaying kingdom, which works for his character.
Some of his better moments are with his onscreen father, Shukla, as they play off each other's lines and body language.
Radhika's unimaginatively named Paro is the dignified village girl -- I would go so far as to say that she's the only one who pulls off her character with a certain degree of conviction.
Other than the charas-loving village priest, of course, who does complete justice to his hypocritical god man with flair.
Given how water politics has reigned supreme in several parts of India for many decades, a satire based on the issue comes with endless possibilities and expectations.

Unfortunately, the storytelling in Kaun Kitne Paani Mein uniformly starts out with much force but falls short of realising its potential.
Rediff Rating: