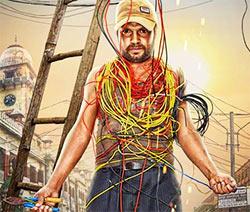 Katiyabaaz is as riveting and gritty as it is wildly funny at times; a must watch, says Sonil Dedhia.

Power cuts aren't really new for Indians but the middle class tolerates them with characteristic resilience as just another inconvenience, like traffic jams, water shortage or unhygienic living conditions.
However, the public is finally catching up, thanks to the revived media attention this problem has been showered with lately.
Subsequently, efforts to solve the problem have been on simultaneously.
Just yesterday, August 21, Prime Minister Narendra Modi inaugurated a power grid in Ranchi, Jharkhand and, addressing the gathered crowd, he said that providing electricity to everyone across the country is his government's top priority.
Director duo Fahad Mustaka and Deepti Kakkar's Katiyabaaz -- the multiple award-winning documentary that places the shortage and subsequent theft of electricity in the city of Kanpur in a sociopolitical setting -- couldn't have come at a better time (it has already been screened at last year's Mumbai Film Festival and several others around the world).
Katiyabaaz is a local term for a person who is an expert at rerouting electric wires illegally to steal electricity.
Set in a city where the temperatures during summers skyrocket to as high as 47 degrees Celsius, and power cuts last for as long as 15 hours, the Katiyabaaz -- Loha Singh -- is deemed the local Robin Hood who risks his life by climbing electricity poles to reroute electricity from affluent people to deprived neighbourhoods.
His nemesis is Ritu Maheshwari, an IAS officer and the newly appointed managing director of Kanpur Electricity Supply Company Limited (KESCO), who is steadfast in her resolve to rid the city of these rampant thefts and come up with new initiatives for even distribution of electricity across Kanpur.
Loha Singh calls himself a fearless rebel -- he confidently declares, 'Chahe aandhi ya toofan aa jaye, meri katiya hil nahin sakti (Even thunderstorms can't move my katiya).'
Loha Singh, who's speech is amusingly peppered with generous doses of profanities, proves true to his name -- he casually handles naked wires, blows up a transformer so that he can insert rerouting wires, the works.
On her part, Ritu Maheshwari has to face opposition from residents of the locality who refuse to pay their electricity bills as well as a contesting MLA who thinks that a woman is incapable of providing any solution to the problem.
The documentary unfolds with real happenings in Kanpur, and Fahad and Deepti have captured the problem quite brilliantly.
Cinematography by Mustafa, Maria Trieb-Eliaz and Amith Surendran is worth a mention too.
Shots of people drying clothes on thick electric wires dangling across buildings and kids play with them, an old woman praying to god, in her dark room, to provide them with electricity, accentuate the narrative in quite the poetic manner.
The dark humour, infused by way of Loha Singh makes this often gritty and riveting documentary exceedingly entertaining.
The background tracks, composed by the Indian Ocean band (Amit Kilam, Rahul Ram) and lyricist Varun Grover (of Gangs of Wasseypur fame) blend in the film pretty well.
I strongly recommend Katiyabaaz.
Rediff Rating: