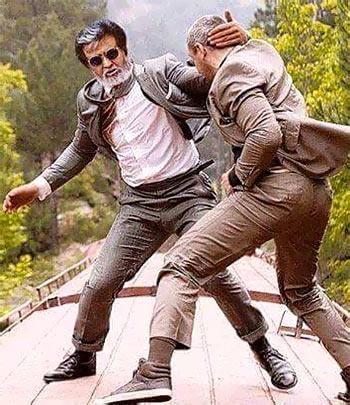 If not for the hype and stunning trailer, which promised an all-out Rajini masala entertainer, Kabali would have been far more enjoyable, feels S Saraswathi.
So much has been written, said and predicted about Superstar Rajinikanth's Kabali that it seems impossible for the film to live up to the lofty expectations.
But interestingly enough, director Pa Ranjith, a relative newcomer, manages to hold his own against the Superstar.
Known for his simple narration and armed with a slow-paced yet emotionally powerful screenplay, the two-film old director has not made many compromises for Rajinikanth.
Ranjith has cleverly portrayed Rajinikanth as a powerful gangster, who loves his handcrafted suits and designer sunglasses.
The film is not without its share of mass moments but there has been no attempt to make him three shades lighter or invincible and there is none of Rajini's usual gimmicks. He appears strangely calm and philosophic, even vulnerable and helpless at times.
Kabali revolves around the plight of Malaysian Indians, who have been toiling for a pittance at menial jobs in their country for generations. They revolt under the leadership of Kabaleeshwaran (Rajinikanth), also a lowly worker.
Into this fight for justice and bloody gang wars, the director has woven a tale of love between Kabali and Kumudavalli (Radhika Apte). Their love affair is brutally cut short when the fight escalates, Kumudha is killed and Kabali gets jailed for 25 years.
All this is narrated in a brief flashback and the film opens with Kabali being released from jail.
For most part, the film moves at a snail's pace with brief moments of high-octane stunts.
There are lengthy conversations between the actors and emotions seem to play a bigger role in this gangster movie. The spotlight is almost entirely on the love story, and neither the workers nor the gang wars or its leaders are given any importance.
Music composer Santhosh Narayanan proves he is a class apart with his powerful background score, and the Nerupa Da number. The haunting Maya Nadhi, picturised on an aging couple, also touches your heart.
Among the performances, Radhika Apte, Dhansika and Dinesh stand out. But the antagonists -- played by Kishore and Taiwanese actor Winston Chao -- are all show and no substance.
Kabali is definitely not your regular Rajini film and is most likely to disappoint his fans. The film is also not as gripping as Ranjith's critically acclaimed Madras.
If not for the hype and stunning trailer, which promised an all-out Rajini masala entertainer, the film would have been far more enjoyable.
Rediff Rating: