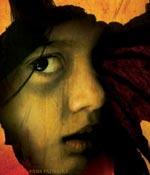 Sonil Dedhia reviews Kaalo. Post YOUR reviews here!

When comedy and romance are the order of the day, director Wilson Louis has dared to be different by making a horror film.

It's a thorny genre to attempt, since one has to maintain consistent suspense throughout. Otherwise, the film runs the risk of becoming tacky and unfrigthening.

Perhaps this is why horror, as a genre, hasn't yet been optimally tapped in India. Sure, we've witnessed horror films in the past, but very few of them succeeded in scaring the audience.

But Kaalo stands apart from its brethren in Indian horror, partially because it's been shot entirely during the day, a quirk that makes the movie immediately different. All credit goes to director Wilson Louis for his creative thinking.

Kaalo, as it turns out, is a witch who lived in Kulbhata in the 18th century. She would kill young girls to attain immortality, but one day, in turn, she was killed and buried by villagers.

Some years later the village was again haunted by her presence and the whole town of Kulbhata vacated overnight. 250 years have since passed, but still Kaalo is present and hungry for more lives. Anybody who dares to pass through the village is killed.

Now, a bus is heading to Kuldevi, carrying a few passengers: four shameful friends who are going for a marriage, a newly married couple who are heading to Kuldevi for blessings, an aged couple who are eager to meet their grandson, and an NRI couple. Then there's Shona (Swini Khara), little girl travelling alone on her way to meet her grandmother, and a young guy Sameer (Aditya Shrivastava) who is travelling with a bag loaded with explosives, which he plans to use to dig a well for his village. On the way Shona, who starts knitting a sweater, gets friendly with Sameer.

Then, the bus has to make a diversion and has to pass through the haunted village. The witch is instantly drawn towards the bus and its occupants. And that's when the killing begins.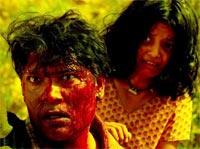 The problem with Kaalo is that the story is predictable and it has been stretched unnecessarily.

On the positive side the movie will perhaps resuscitate the horror genre in India, and inspire other filmmakers to be more experimental in their approaches to the genre. Also, the cinematography by Pushpank Gawde is first rate and deserves a special mention.
Of the cast Swini Khara is excellent. Aditya Shrivastava does justice to his role. The rest of the cast doesn't get much to do.
On the whole, Kaalo scares you -- but only in bits. The movie starts off very well and promises a grand finale. But once the background story is out, the movie plods along in its attempt to bring everything together. The movie will interest the audiences who love the genre, but with lack of publicity and two big releases next week, Kaalo will find it tough to survive to competition.
Rediff Rating: